Edinburgh Blues Schedule Nov 2014 – June 2015
The Edinburgh Blues Club was founded in January 2014 and since then has brought a range of popular and well attended music shows to Edinburgh. These included a highly successful launch, Eilidh McKellar, Brothers Groove, Hamilton Loomis, Ryan McGarvey, Rosco Levee & The Southern Side and Simon McBride, all with local supporting blues artists.
Following these shows, the club is proud to announce the forthcoming shows between now and summer 2015. Unless otherwise shown all these shows take place at the Voodoo Rooms in Edinburgh.
The Edinburgh Blues Club encourages attendees to be members of the club. Members pay a regular payment of £10 per month which means they can attend forthcoming shows with no additional ticket prices. Subscribe monthly using the subscribe button below:

We can also offer a yearly subscription via Paypal which works out at £10 per year cheaper than a monthly subscription. This is available using the subscribe button below.



We are proud to announce the forthcoming shows: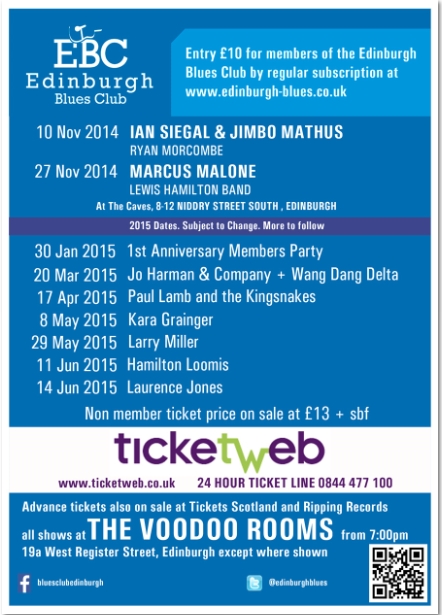 Thursday 27 November 2014 – Marcus Malone & The Lewis Hamilton Band
This show is at the Caves, Edinburgh
Malone, a Detroit native and current UK resident, is without question one of the finest vocalists to be found in the blues, blues/rock, or rock genres. He has a very Paul Rodgers like quality to his voice which is excellent for the multiple styles of music he plays. Originally from Detroit, Michigan USA, Marcus Malone lived near Hitsville and grew up listening to Motown grooves. He is now settled in the UK but his early Detroit and LA influences still flavour his music.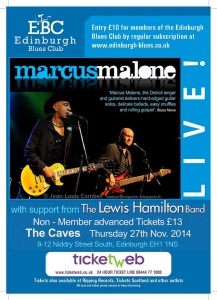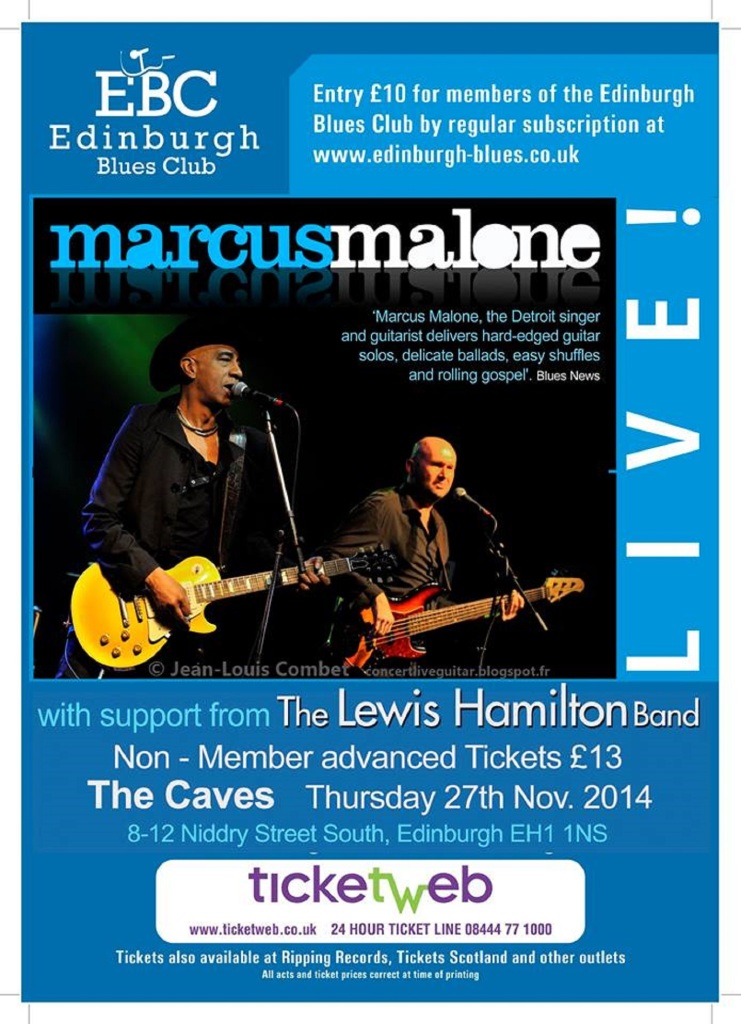 Support by Lewis Hamilton Band – Since their formation in August 2010 they have been booked for over 400 shows from Shetland to Poland, and have appeared at most of the UK's biggest blues festivals, including Main Stage performances at Hebden Bridge and Maryport. As a guitarist he pays tribute to some of the greatest musicians of the 20th century, taking influence from people like Stevie Ray Vaughan, Jimi Hendrix and Rory Gallagher.
Friday 30 January 2015 First Anniversary Members Show Featuring Dave Arcari & Mike Whellans
To celebrate the first anniversary of the club, we will be holding anniversary show exclusively for the members of the Edinburgh Blues Club.
Slide guitarist & songwriter Dave Arcari's alt.blues sounds owe as much to trash country, punk and rockabilly as they do pre-war Delta blues and have been showcased via eight internationally-acclaimed solo CD releases. His latest album – Whisky in my Blood – was released on Finnish record label Blue North in March 2013. As well as showcasing Arcari's trademark National steel guitars, the release features performances on banjo, regular guitar and and cigar box which help capture the full breadth of Arcari's song-writing and performance. His relentless UK and European tour schedule have established Arcari as a formidable international solo performer who is fast building a media reputation as a 'hell-raising National guitar madman'.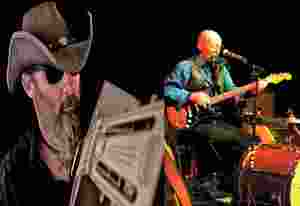 Mike Whellans is Scotland's only one-man blues band with his guitars, mouth-harps, vocals and drum-kit – and of course his show-stopping, "mouth percussion"; a real tour de force. Mike is an astounding guitar picker, equally at home on 6, 12 string or electric guitars, and is an amazing mouth-harp player too. And the other things he can do with his mouth? Well, you've just got to see and hear his vocal percussion to be convinced. Added to this; he sings, is a drummer of no slight talent, writes songs, seems to have boundless energy, and you've got a great entertainment in prospect with the most dynamic one-man blues band any side of the Forth delta. Instruments played: Electric & Acoustic Guitars, Mouth Harp, Drums, Percussion, Mouth Percussion.
Friday 20 March 2015 – Jo Harman & Company + Wang Dang Delta
Recently voted 'Female Vocalist of the Year' at the British Blues Awards, Jo Harman is an original British singer-songwriter/bandleader whose work is broadly influenced by blues, gospel, soul, country, rock and other 'roots' sensibilities. In March 2014 the Daily Mirror, as part of a half page interview, described her as 'the finest female soul blues singer in the UK'. Emerging initially as a 'word of mouth' independent, Jo remarkably secured over 50 UK and European festival gigs over in 2013, including prestigious slots at the likes of Cheltenham and Edinburgh Jazz Festivals. Last summer Jo was one of only 12 (otherwise household name) artists appearing at Parkpop in the Hague, performing to over 300,000 people. Moreover, late last year she performed alongside names like Robert Plant and Van Morrison at BluesFest at The Royal Albert Hall in London for Live Nation (Jo's performance being broadcast by Radio 2 and Radio 6 Music) and she has been asked to re-appear in 2014. Jo also appeared on prime time European TV and mainstream radio, as well as making three appearances within 6 months at the world famous Paradiso, Amsterdam. Jo's 2013 debut album 'Dirt On My Tongue' received remarkable critical acclaim and no little commercial success making various of 'best of' lists and awards, internationally.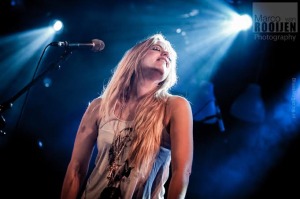 Support by Wang Dang Delta who are a 6-piece band from Perthshire in Scotland who specialise in blues and beyond music. The band serve up a set of mainly original compositions with some classic blues and boogie thrown in for good measure. The band bring a wealth of experience and influences with hints of jazz, soul, folk, country and other roots-based genres pushing at the boundaries, but remaining firmly grounded in the blues.
Friday 17 April 2015 Paul Lamb & The Kingsnakes + Baby Isaac
Paul Lamb has spent the last thirty-some years whoopin' and hollerin' in clubs in his native North-East plus a later move to London, in concert and on festival stages, creating a personal synthesis of his harmonica heroes and his own unique and innate talent. His history includes representing Britain in the World Harmonica Championships, working with his particular mentor, Sonny Terry, and with any number of other blues artists who've visited these shores Over the years Paul Lamb & the King Snakes have won countless awards, sold record breaking quantities of albums and been inducted into the British Blues Awards Hall of Fame alongside the likes of Peter Green & John Mayall.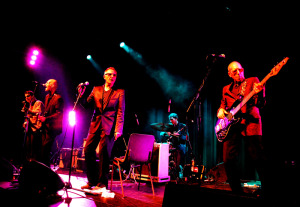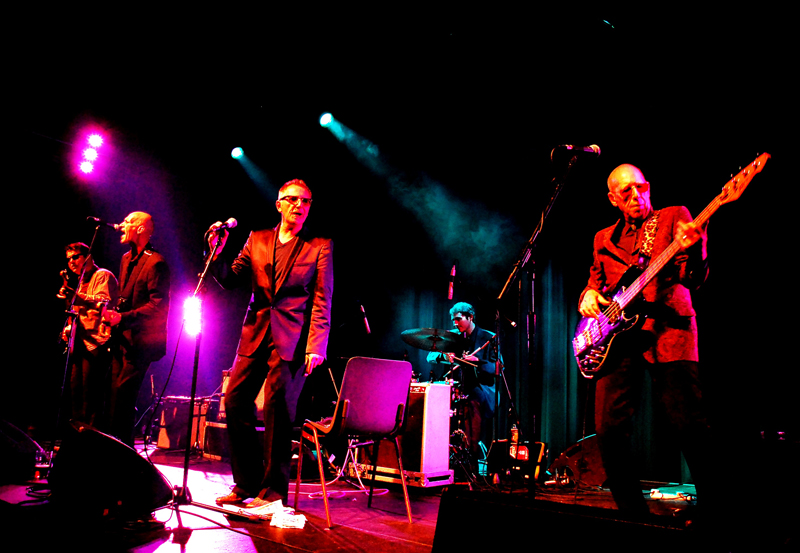 Support by Baby Isaac. Authenticity was a key factor in developing the Baby Isaac sound – it was all about the feel, and the natural, energetic performances. Baby Isaac set out to capture the essence of 50's Chicago Blues & Swing. Influenced by such Blues greats as T-Bone Walker, BB King, Little Walter and Sonny Terry, the band have successfully developed their unique sound, loosely termed as 'Goodtime Blues', into a powerful yet immensely dynamic mix of Blues, Swing, R & B and Jazz.
Friday 8 May 2015 – Kara Grainger + The Rising Souls + Reece Hillis
Classic song-writing skills, smooth sultry vocals, and the ability to whip up a storm with a fiery slide guitar – very few can boast this set of trump cards, but it just happens to be the hand dealt to Australian singer, songwriter and guitarist Kara Grainger. With the advocacy of her record company, she moved to Los Angeles in 2008. Recorded at the Hobby Shop Studios in LA and with Grammy Award winning producer David Z at the helm, her latest release Shiver & Sigh includes 5 Kara Grainger originals, as well as soulful re-imaginings of Robert Johnson's C'mon In My Kitchen and Al Jackson Jr./Timothy Matthews' Breaking Up Somebody's Home. As a vocalist Grainger is strongly influenced by Bonnie Raitt. As a slide player Grainger has developed her own style, less influenced by Raitt and other Californian slide masters than by their original Mississippi Delta blues role models.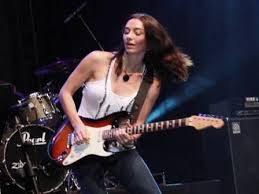 Support by The Rising Souls and Reece Hillis. For the last year The Rising Souls, an Edinburgh based 3 piece have swept through the Central Belt of Scotland leaving no ear unprovoked. Not to mention universal praise at the 2013 Edinburgh Festival and gigs in London, Essex, Prague and the momentous siege of Larkhall! No gig is too big, no gig too small. Their catchy soulful tunes never fail to impress and their presence on stage is infectiously beautiful. Reece Hillis picked up the guitar at 8 years old and discovered blues early in his teen years. He was hooked by the simple, yet deep melodies and guitar stylings that the early blues pioneers produced.
Friday 29 May 2015 – Larry Miller & Dawg House Blues Band
After many years in the music business and touring constantly, Larry has built up a large following across the UK and building an ever increasing army of fans in Europe. His status as guitar slinger, is becoming legendary with his exciting, mesmerising guitar playing and rip roaring live shows. His engaging personality brings a dimension of showmanship to his performances like no other. In 2009, Larry played an amazing seven encores at the Cambridge Rock Festival and a declaration was made of a "National Larry Miller day". This is embedded in the festival's history and he returned in 2010 to a standing ovation and the biggest crowd of the festival. He is unique, there is only one Larry Miller.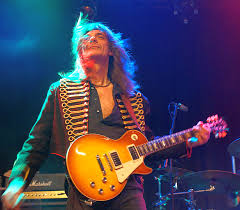 The Dawg House Blues Band are a recently formed 4 Piece Rock and Blues Band, based in Central Scotland. Comprising of Vocals – Sax -Harp, Guitar, Vocals-Bass and Drums. The members are all seasoned players, whose emphasis is on good time music. Influences include The Blasters, Doctor Feelgood and Rory Gallagher.
Thursday 11 June 2015 – Hamilton Loomis + The Blueswater
Overwhelmingly voted our most popular act during the first six months of the club's inception, Hamilton Loomis returns to the club for a second year. "Innovate, don't imitate." Hamilton Loomis took his mentor, Bo Diddley's advice. It speaks volumes when the likes of Diddley, Johnny "Clyde" Copeland, Clarence "Gatemouth" Brown, and Albert Collins take you under their wings. The twenty-something Texas sensation isn't just another cat-in-a-hat with a Strat. He has crafted his blues roots into a funk-a-fied recipe all his own. A multi-instrumentalist, Hamilton practically grew up in the spotlight. Enjoy funky rhythms, booming horns, powerful yet refined harmonica and Loomis' soulful vocals coupled with his stellar guitar work. Loomis is at the forefront of bringing blues based American music into the 21st century and redefining it for a contemporary audience.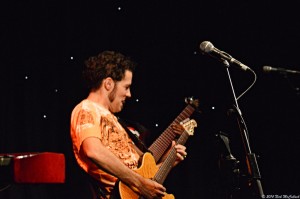 Support by The Blueswater, a young award-winning act from Edinburgh who regularly performs across Scotland and the UK. The band brings in the sounds of gritty old-school rhythm and blues, drawing inspiration specifically from the Chicago blues style of Chess records, building guitar riffs and harmonica solos around a tight rhythm section. In 2011, they premiered their show BLUES! At the Edinburgh Fringe to great acclaim, and in 2012 received a Mervyn Stutter Spirit of the Fringe Award. The show is still running every August.
Sunday 21 June 2015 – Laurence Jones & Blueprint
Laurence Jones was handed the award for "Young Artist of the Year," at the 2014 British Blues Awards ceremony held at the Great British RnB Festival in Colne, Lancashire. Laurence Jones Is 22 years old and is already making a big name for himself. "Laurence is like a young Robin Trower, exciting and full of energy" – BBC Radio 2 The young gunslinger of the blues Laurence Jones has sensationally signed a deal with "Ruf Records". His Debut album for the label and 2nd album for Laurence was recorded at the Legendary Dockside Studio in Louisiana where artists such as B.B King and Derek trucks have recorded. A catalogue of big names appears on the album including Walter Trout, Aynsley Lister, Yonrico Scott, Charlie Wooton and producer Mike Zito.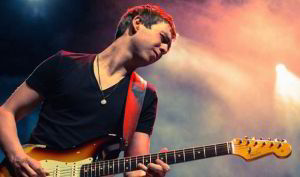 Blueprint was formed in November 2011 when drummer Duncan Clark joined Andy Donald on bass and Chris Drysdale on guitar and vocals. Each member of the band has a comprehensive individual history of performing, which they combine to produce the earthy and exciting sounds of "Blueprint". Following their debut gig in December 2011, the band have worked at bringing their blend of blues rock to the attention of audiences through performances in established venues such as Bannermans and Whistlebinkies in Edinburgh, The Dreadnought in Bathgate and The Ferry in Glasgow. They also filled a monthly residency in Stirling's Kilted Kangaroo for 5 months. Whilst the music of "Blueprint" can best be categorised as blues rock, their combined influences and interests have allowed their spectrum of sounds to expand and include some jazz and funk aspects of rock music. Their catalogue now includes tracks covering the A to Z of classic artists; From The Allman Brothers to Led Zeppelin, and Billy Cobham to Frank Zappa. The contemporary artists of today are acknowledged to the same extent, with music by such names as Joe Bonamassa, Matt Schofield and Oli Brown appearing amongst the variety offered each time the band take the stage.
Please note – all listings are subject to change.
More shows may be announced during this period. This is dependent on artist availability, membership take up and ticket sales.