Dear All,
With the summer break between shows we are now starting to consider acts that may appear at the Edinburgh Blues Club in 2015. As our members have given us so much support at the five shows we have hosted so far, we would like to involve them in two stages of this decision making process.
We will shortly introduce an online survey in order to offer existing members of the Edinburgh Blues Club the opportunity to propose headline artists they would like to see play at the club and their preferred styles of blues.
From the results, we will then devise a short list of around 20 artists. In August we will then hold a listening party for all existing Edinburgh Blues Club card holders as of 1st August 2014. We will play a collection of songs and videos from the selected artists where you will have the opportunity to state your preferences. We will also make an online survey available for any unable to make the meeting.
We are in the process of creating new flyers for our autumn programme, the schedule of which is below. With the festival season almost upon us, we would benefit from any help in distributing these; therefore we intend to post a number of flyers to each member, along with the membership cards of those who have not collected them at one of our previous shows.
If you're not yet a member and would like to be involved in this process, we'd ask you join via our website by 1st August. Membership of £10 per month will of course also give you entry to our future shows, including the five remaining shows of this year.
Just register and subscribe at our Site for your chance to have your input for 2015 .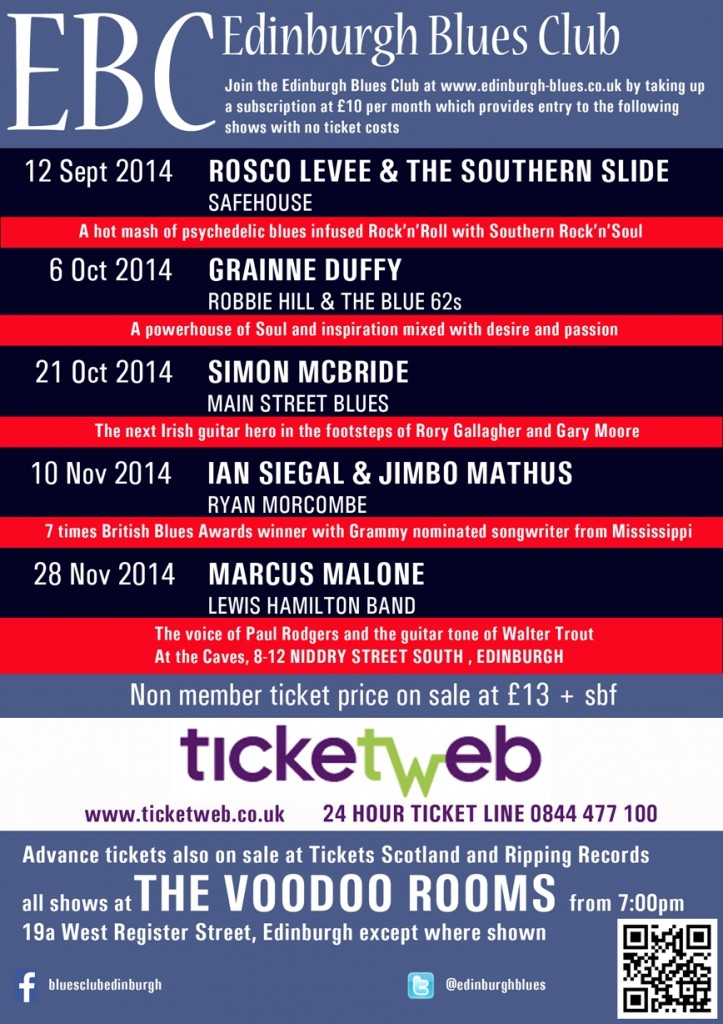 Duncan, Nick, Richard, Richey, Kevin