This is a reminder of the current offers you can benefit with if you are a subscribed EBC member.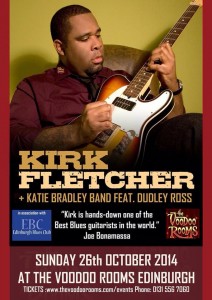 Kirk Fletcher Ticket Discount
Tickets for Kirk Fletcher & Katie Bradley at the Voodoo Rooms on 26 October are available to members of the Edinburgh Blues Club for £14 (a reduction of £3.75 from their retail price elsewhere). Buy your tickets at any of our shows.
Mike Zito/Samantha Fish ticket discount
GMH Promotions have offered EBC members a saving on ticket prices for the Mike Zito/Samantha Fish gig at the Jam House on Thu 6th Nov 2014. For subscribed EBC members this will be £11 instead of £13.50 , a saving of £2:50 on a ticket. I have asked for mine.

http://www.skiddle.com/whats-on/Edinburgh/The-Jam-House/Mike-Zito-amp-The-Wheel–Samantha-Fish/12188170/

Newcastle Blues Club

Newcastle Blues Club would like to extend this an the EBC in the form of a discount on our gig ticket prices if any of your members wish to attend our gigs in Newcastle. they will take £2 or 20% off the face value of the tickets (whichever is greater) for anyone attending.
Thanks to Les Routledge @ Newcastle Blues Club 🙂