Dr Feelgood
November 21, 2019 @ 7:00 pm

-

10:30 pm

£18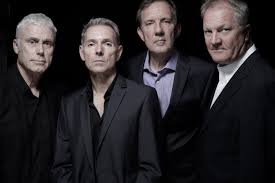 The most enduring act to emerge from the UK's much touted pub-rock scene, Dr. Feelgood was formed in 1971 by a group of R&B enthusiasts who had originally played in local outfits such as the Southside Jug Band, the Fix, and the Pigboy Charlie Band. The original line-up included Lee Brilleaux (Lee Collinson, 10 May 1952, Durban, South Africa, d. 7 April 1994, Leigh-on-Sea, Essex, England; vocals/harmonica), Wilko Johnson (b. John Wilkinson, 12 July 1947, Canvey Island, Essex, England; guitar), John B. Sparks (bass), John Potter (piano) and Bandsman Howarth (b. Terry Howarth; drums). When the latter pair dropped out, the remaining trio recruited a permanent drummer in The Big Figure (b. John Martin).
Originally based in Canvey Island, Essex, on the Thames estuary, Dr. Feelgood broke into the London circuit in 1974, signing a record contract with United Artists Records shortly afterwards. Brilleaux's menacing personality complemented Johnson's propulsive, jerky stage manner. The guitarist's staccato style, modelled on Mick Green of the Pirates, emphasized the band's idiosyncratic brand of rhythm and blues. Their debut album, Down By The Jetty, was released in 1975, but despite critical approbation it was not until the following year that the quartet secured due commercial success with their third album, the live set Stupidity. This raw, compulsive album, which perfectly captured the ferocity of the band's live sound, topped the UK charts and appeared to make their status assured. However, internal friction led to Johnson's departure during sessions for a projected fourth album and although his replacement, Gypie Mayo (b. John Philip Cawthra, 24 July 1951, Hammersmith, London, England), was an accomplished guitarist, he lacked the striking visual image of his predecessor.
Dr. Feelgood then embarked on a more mainstream direction which was only intermittently successful. 'Milk And Alcohol' gave them their sole UK Top 10 hit in early 1979, but they now seemed curiously anachronistic in the face of the punk upheaval. In 1981, Johnny Guitar (b. John Crippen; ex-Count Bishops) replaced Mayo, while the following year both Sparks and Martin decided to leave the line-up. Brilleaux disbanded Dr. Feelgood after the release of Fast Women Slow Horses, but relaunched the band after only a few months with Gordon Russell (b. 4 June 1958, Hampstead, London, England; guitar), Kevin Morris (b. 15 May 1955, London, England; drums) and Phil Mitchell (b. Philip Henry Mitchell, 19 March 1953, Wembley, England; bass). While the new line-up could claim a loyal audience, it was an increasingly small one. However, they remained a popular live attraction in the USA where their records also achieved commercial success. They also launched their own label, Grand Records. Shortly afterwards Russell left the band for personal reasons and was replaced by Steve Walwyn (b. Stephen Martin Walwyn, 8 June 1956, Southam, Warwickshire, England). Mitchell left during the recording of 1991's Primo, with session musician Dave Bronze (b. David Eric Bronze, 2 April 1952, Billericay, Essex, England) taking over as bass player. In 1993, Brilleaux was diagnosed as having non-Hodgkins lymphoma and, owing to the extensive treatment he was receiving, had to break the band's often-inexorable touring schedule for the first time in over 20 years. He died the following year having completed a final album and opened the Dr. Feelgood Music Bar in Canvey Island.
Respecting Brilleaux's wish to keep the flame burning, Morris, Walwyn, Phil Mitchell and new singer Pete Gage (b. 12 February 1946, London, England) got back together a year later to record On The Road Again. Robert Kane (b. 6 December 1954), latter-day vocalist for the Animals, replaced Gage on the solid Chess Masters, the band's first album of the new millennium.
Support from Gerry Jablonski Band