Edinburgh Blues & Rock Festival 2017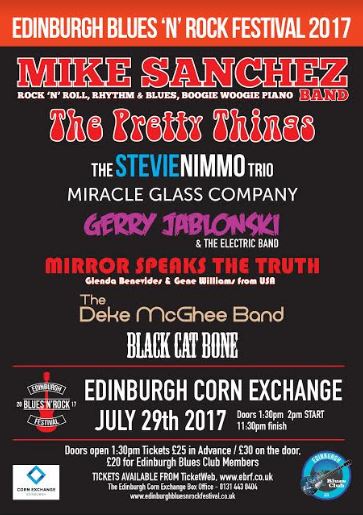 After the resounding success of the 2016 Edinburgh Blues 'n' Rock Festival, the festival is back with a brilliant and impressive band line up for EBRF 2017 which is as follows.
MIKE SANCHEZ BAND – ROCK 'N' ROLL, RHYTHM & BLUES, BOOGIE WOOGIE PIANO BAND
British singer, pianist and guitarist Mike Sanchez is one of the most exciting and charismatic performers of Rhythm & Blues and Rock 'n' Roll in the world today.


THE PRETTY THINGS
After more than 50 years of continuous service, The Pretty Things — still featuring original members Phil May and Dick Taylor — remain a significant, challenging force in Rock 'n' Roll.
THE STEVIE NIMMO TRIO
STEVIE NIMMO made his name with his brother Alan Nimmo in the UK's leading rock-blues outfit The Nimmo Brothers. He's a great songwriter and passionate vocalist who is as happy tearing things up on electric lead guitar as he is on down-home acoustic roots.
MIRACLE GLASS COMPANY
Fusing psychedelic rock'n'roll with pop sensibilities, blistering musicianship and three unique voices, supernaturally beautiful songs to seismic mind bending jams, Miracle Glass Company represent all that's best about cosmic rock n' roll.
GERRY JABLONSKI & THE ELECTRIC BAND
A four piece blues rock powerhouse that never fails to win over their audience as they take them on a rollercoaster ride of original music that pays tribute to the blues rock classics that have influenced this band.
MIRROR SPEAKS THE TRUTH
Glenda Benevides & Gene Williams from USA. Gothicana Soul is the perfect descriptor for the music of performance and songwriting duo Mirror Speaks The Truth (MSTT).
THE DEKE McGEE BAND
With the authentic sound of the saxophone led small big bands of the 40s and 50s, Glasgow based quintet The Deke McGee Band perform their own brand of vintage rhythm'n'blues.
BLACK CAT BONE
Black Cat Bone is a Alt Blues Rock n Roll band with a lot of Soul, the 5 piece come equipped with a pounding rhythm section, layered vocals, heavy distortion and screaming harmonica.
Tickets available for £25 or £20 for Edinburgh Blues Club members online at: https://www.ticketweb.uk/event/edinburgh-blues-n-rock-festival-edinburgh-corn-exchange-tickets/7341415
and all Edinburgh Blues Club shows.