Eric Gales Band + Bourbon Street – SOLD OUT
May 24, 2017 @ 7:30 pm

-

11:00 pm

£16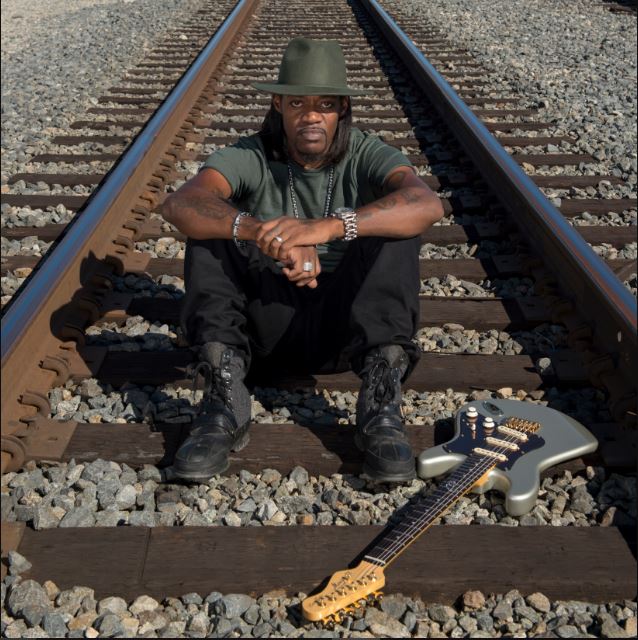 Blues guitar phenom Eric Gales was born and raised in Memphis. Gales grew up hearing gospel in church where his music is rooted, and started playing guitar and singing at 4 years old. Although Gales was born right-handed, he learned to play left-handed, without reversing the order of the strings. "I saw my family members play that way," he recalls. "But what it meant didn't register. And no one placed a guitar in my hands. I just picked it up, and that's what felt comfortable. It was just in the genes." The youngest of four guitar-slinging brothers, all of who play lefty and upside-down (a family tradition passed down from their grandfather, Dempsey Garrett who jammed with Muddy Waters and Howlin' Wolf), Eric was tutored guitar by his older brothers, Eugene and Manual (who performed as Little Jimmy King) and raised on a hearty diet of primal blues and classic rock. A child prodigy, he became a fret board monster early on displaying a natural command of the electric guitar. Winning his first blues contest at 11, the teenage Eric Gales was quickly exalted as the "next Jimi Hendrix." With his dazzling fluidity and soaring creativity that complimentary yet unenviable comparison was probably inevitable for a black southpaw rocking the blues on a righty Fender Stratocaster flipped upside-down. The comparison has proven hard to swallow. "Hendrix blows my mind. To be mentioned in the same sentence as him is one of the highest compliments in the world. (But) I'm no Hendrix clone. I draw on my own experiences, and my church upbringing was hugely influential. Everything I do has some kind of gospel-based feel. But I've managed to find a way to work it into blues-rock."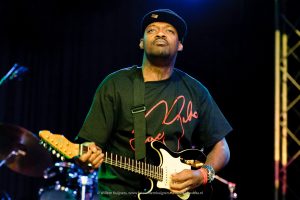 Eric Gales claims he was more influenced by guitarists who were influenced by Hendrix than Hendrix himself. It is a broad cross-section that includes Cream, Led Zeppelin, Jeff Beck, Muddy Waters, John Lee Hooker and Wes Montgomery, as well as later arrivals such as Eric Johnson and Stevie Ray Vaughan. His rise was meteoritic. He got his first record deal at 15 with Elektra Records, started a career at 16 and instant adulation for his unearthly technique spread. Through the years it would not be unusual to see celebrity artists Mick Jagger, Keith Richards, B.B. King and Eric Clapton in the audience gaping at Gales' guitar exploits. The thing about him is he usually doesn't play things the same way twice. Most guys have the same old licks or a few good "hot licks." He never dries up and the licks don't seem staged, instead they roll out of him. He can play five different solos and they would all be different and all be as good as the other ones. When asked about the most original aspect of his guitar playing Gales retorted: "My spontaneity – what I play off the top of my head – and that's especially true onstage." At Woodstock in 1994 the cool Gales shared the stage with Carlos Santana before a crowd of 350,000. Santana became another mentor, adopting him as his godson. "It was one of the highest experiences of my life to see so many people out there, and I'm onstage with someone who was at the original Woodstock," marveled Eric.

Despite such heady pinnacles, life hasn't always been so effortlessly easy for Gales, who periodically wrestled with the lures and rigors of street life. Like a phoenix that flew too near the sun, his stratospheric wings would melt… A hectic road schedule and some running with the wrong crowd resulted in run-ins with the law, jail time and a stint in rehab. "I took myself through some really tough trials and times…" but he has managed to come through to the other side. Eric has had his challenges, but who among us has not? Challenges are nothing more than opportunities for us to overcome. They strengthen our resolve and define our character. Gales continues to build momentum in a new career chapter and he's earned it, surviving the business and everything that goes along with it to be making music on the other side of some very dark days. And he continues to grow and evolve musically — far from ready to turn in his own rock star biography. "Eric has started to focus more on the big picture and is making up for lost time," says producer-impresario Mike Varney. "Everything he's shot for these past couple of years he has attained, and he keeps raising his goals and reaching them… I don't think anything can stop him." Now he's looking to play his guitar, tell his story, and change lives in the process. Gales' songs are candidly autobiographical addressing his aspirations, challenges and resolutions. "They are musical pictures of experiences in my life," And what does he hope that others might get out of them? He gives a one-word answer: "Inspiration." Eric acknowledges. "I am simply a messenger. I am doing what God has placed me here to do". I get the greatest satisfaction when I see that my performances have a positive effect on those who attend them…"
Gales has gotten back on the horse and been busy and in demand ever since, recognized as Best Blues Guitarist by Guitarist Magazine, a regular touring role in the Experience Hendrix Tours sharing the stage with fellow hot shot peers Billy Cox, Buddy Guy, Jonny Lang, Kenny Wayne Shepherd, Robert Randolph, Dweezil Zappa and Eric Johnson, accompanying Lauren Hill on tours of Europe and America, as one third of power trio and super group Pinnick Gales Pridgena and as "Raw Dog" contributed vocals on several records by the Memphis Rap groups: Prophet Posse and Three 6 Mafia. Eric Gales rocks it hard-core. His music is rooted firmly in gospel and blues, but played with the edge and aggression of a young gunslinger. It's at once tight and loose, commanding and in the moment. His is a unique amalgam of styles. If you want modern blues – This is it.
Support by Bourbon Street
Bourbon Street are a four-piece funk, soul, blues band from Edinburgh, United Kingdom. They are currently hitting Edinburgh's music scene with covers and original music, focusing primarily on funk driven grooves and slow soulful ballads. Comprising of Emmanuel James Mathias, Louis Crosland, Adèle Revilo and Lewis Barrow.