Erja Lyytinen + Robbie Hill band
October 8, 2015 @ 7:15 pm

-

11:00 pm

£13
Thursday 8 October 2015 – Edinburgh Blues Club proudly present Erja Lyytinen + Robbie Hill Band
This show features a first ever visit by Erja Lyyntinen to Edinburgh with the return of Fife born Helsinki based Robbie Hill.
Erja Lyytinen
Take one part blues traditionalist, blend it with a forward-thinking music academy graduate, serve with a side order of skill and a garnish of Nordic beauty. What have you got? Singer/guitarist Erja Lyytinen, a.k.a. "the Finnish slide goddess" (The Blues Magazine).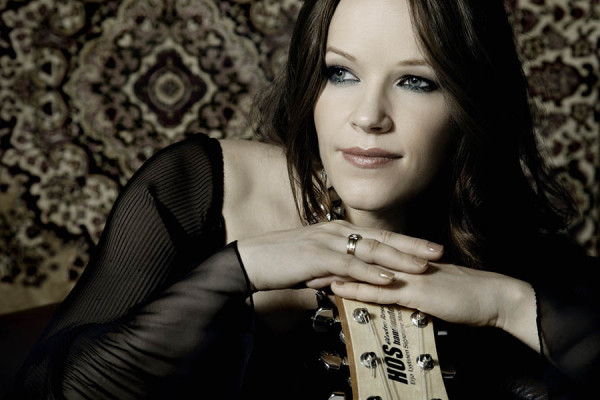 Since first stepping foot in a recording studio nearly 15 years ago, Erja Lyytinen has become a bona fide star in her homeland and a celebrated fixture on the international music scene. In that time, she has recorded nine studio albums in places as diverse as Helsinki, Memphis and Clarksdale, Mississippi, earning numerous awards and honors along the way. She feels equally at home playing traditional and modern blues, but has never been afraid to incorporate styles like jazz, pop and soul into her songwriting. Even motherhood hasn't slowed her down: Her most recent album, the Elmore James tribute The Sky Is Crying – recorded a few months before she gave birth to twins – has been universally hailed as her best and bluesiest to date. "With The Sky Is Crying, Erja has seemingly achieved the impossible by both sounding like Elmore as he played in the 1950′s whilst adding her unique flair and 21st century vista," wrote Blues In Britain in a glowing review.
Born into a musical family in the town of Kuopio, Lyytinen quickly emerged as an artist to watch in her native country. She signed with Germany's prestigious Ruf Records label in 2005 and recorded her international debut Pilgrimage later that year. Her participation in the 2006 Blues Caravan tour gave audiences outside of Finland a first taste of her spirited live performances and led to a string of successful appearances in the United States.
The follow-up Dreamland Blues took her back to the USA to record with David and Kinney Kimbrough (sons of Mississippi blues legend Junior Kimbrough). That album was voted Best Album of 2006 by Finland's YLE Radio Suomi 'Bluesministeri'. After two years on the road, she returned with Grip of the Blues in 2008, mixing hard-edged blues with modern R&B. Her 2010 release Voracious Love was even more adventurous: The lavishly orchestrated "Bed of Roses" – featuring contributions from Marco Hietala (Nightwish) on vocals and Apocalyptica cellist Paavo Lötjönen – showed once and for all that Lyytinen is unafraid to push the stylistic envelope. With 2013′s Forbidden Fruit, she returned to somewhat more familiar territory.
[lyte id="sYSUXrTAG3k" /]
The Sky Is Crying, a dazzling collection of stripped-down, old-school blues recorded live in the studio, then brought her full circle. "I'd wanted to do a raw, down-to-earth slide guitar blues album ever since I visited Mississippi back in 2005," says Lyytinen. Her tribute to music legend Elmore James convinced even the most discerning listeners that her feel for the blues runs deep and that as a slide player, she has few peers. Canada's Blues Underground Network chose The Sky Is Crying as Best European Blues Album and Best Tribute Album of 2014. It also placed in the top three international albums of 2014 as chosen by writers at Britain's Blues Matters, who also honored Erja as the #2 international solo artist.
In 2015, boosted by the overwhelmingly positive response to her latest record, Lyytinen and her band will be touring extensively, starting with a 24-show wintertime run through Finland. The tour will coincide with the release of a brand new live album, Live in London, recorded at that city's renowned 100 Club in October 2014. But Erja wouldn't be Erja if she wasn't thinking ahead to what's next. "I'm already writing songs. In fact, I've got 20 songs waiting for the next album."
In other words: The saga continues…
http://www.erjalyytinen.com
Robbie Hill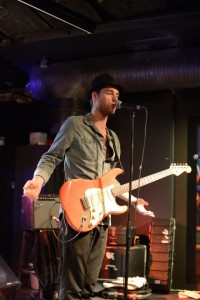 When blues great Otis Grand tells you it's time to expand your horizons, you listen if you're serious about your music. Robbie Hill, originally of Fife, Scotland, had played all over the UK, going out of his way to see the greats while also studying music. But Hill heeded his mentor and set out for Scandinavia with little more than a backpack and a guitar! Robbie returns to the Edinburgh Blues Club after a successful support for Grainne Duffy in October 2014.
http://robbiehill.net
Non member tickets are available for £13 + sbf at Ripping Records, Tickets Scotland and Ticketweb