Gerry Jablonski
April 29, 2016 @ 7:15 pm

-

11:00 pm

£13
FRIDAY 29 April 2015 – Edinburgh Blues Club Present Gerry Jablonski and the Electric Band & The Andy Taylor Group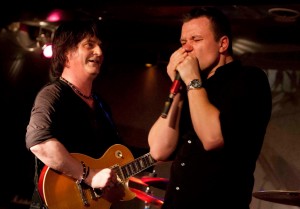 Gerry Jablonski and the Electric Band are coming back to Edinburgh Blues Club by special request of the club's members. The band topped a poll of many of our previous headliners, so we're obliging one more show to this four piece blues rock powerhouse that never fails to win over their audience. Plus there's the first appearance in Edinburgh by the highly rated Andy Taylor Group from Orkney.
Gerry Jablonski and the Electric Band are proud to announce the release of their latest album, Trouble with the Blues. Mixed and mastered at world famous Abbey Road Studio, it breathes new life into the classic blues rock genre with a tight package of finely crafted original songs.
Back in the UK from their 6th European tour, they are a must see live act that take the audience on a roller coaster ride of gritty blues rock with passion and conviction. Trouble with the Blues, their fourth studio album captures the heartfelt energy of their live act and with a four page article in Classic Rock's Blues Magazine, rave reviews and national radio play in Britain and Europe it promises to be the breakthrough album that takes Gerry Jablonski and the Electric band to a wider international audience.
Hear the story so far:
http://www.gerryjablonskiband.com/
The Andy Taylor Group are an exciting trio formed by guitar player Andrew Taylor. He is joined by Marcus Cordock on Bass and Dylan Pepper on Drums. The Andy Taylor Group is undoubtedly one of the most exciting and energetic up and coming blues bands on the British blues scene today. Formed in 2012, in Scotland, the band has played at several Blues Festivals around the country, getting better with each performance that passes them by. There is never a gig that the Andy Taylor Group play where the audience isn't shocked by the tightness of the rhythm section of Dylan Pepper on the drums, and Marcus Cordock on the bass guitar, the dynamics of the music, and of course, Andrew's unique and outstanding blues guitar playing – as well as being a great showman. At only age 25, Andrew is without a doubt one of the hottest young players in the British Blues scene today.
"These guys play great, and I think they have a big future." Walter Trout, Blues Legend.
"Andy's guitar is nice and tasty, a lot of bands are just 'widdlers' so it's nice to hear something a little more subtle. It's as good and somewhat better than a lot of the people I have seen on the circuit." Richard Townend British Blues Awards Nominee
"We'd put them right up there with the likes of Laurence Jones, Mitch Laddie and Ben Poole. They are gifted, creative and rooted in Blues, they are Andy Taylor (Guitar, Vocals), Marcus Cordock (Bass) and Dylan Pepper (Drums). Collectively, they are The Andy Taylor Group… treat yourself, give them a listen."
http://www.facebook.com/theandytaylorgroup
This show is available to members of Edinburgh Blues Club with no additional ticket charge. Non member tickets available for £13 from preceding Edinburgh Blues Club shows, Ripping Records, Tickets Scotland and Ticketweb or on the door (subject to availability) without any additional booking charges.