Hamilton Loomis + Five Grain Whisky
July 4, 2019 @ 7:00 pm

-

11:00 pm

£17
Hamilton Loomis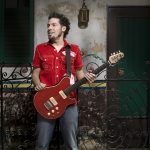 A protégé of Bo Diddley, Loomis met the icon backstage at the age of 16 at Houston's famed venue Rockefeller's. Before the night was over, Loomis was onstage playing guitar with the legend. Diddley quickly became friend, mentor, collaborator and supporter, appearing on two of Loomis' albums and presenting a cherished red guitar that he still plays.
"That one night began my education and I spent a lot of time with Bo over the years listening to him tell so many stories," said Loomis. "He was so generous and most people don't know that he was really philanthropic. He played free concerts around his hometown for homeless shelters, schools and anyone that just needed help. He was always giving! That's another thing that planted the GIVE IT BACK seed in my mind. It's all coming full circle."
Hamilton Loomis does indeed go back to basics on his new album "BASICS", which is his most personal and emotional effort to date. Gone are the double entendres for which Loomis is known; this time, his lyrics are direct, personal, and often autobiographical.
The "basics" theme runs through the entire CD, in its lyrics ("Prayer," "Cloudy Day"), single-chord progressions ("Sugar Baby," "Looking Into a Dream"), simple melodies ("Come and Get Me"), and stripped-down instrumentation of guitar, bass and drums ("Reason," "Getting So Big"). Still, Loomis's trademark deep-grooved funk and soulful blues-rock is definitely present​.
"I wanted this record to be more stripped-down. Even the CD jacket is black and white and pretty basic itself," he says of the disc, which features songwriting collaborations with Grammy-award winning songwriter/ producer/bassist Tommy Sims, co-writer of Eric Clapton's "Change the World."
Support from Five Grain Whisky.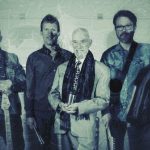 It's true that whisky ages fabulously, but at just one year old, Stirlingshire blues rock band, Five Grain Whisky, is already making an exceptional impression. Up front, is the gravel-voiced troubadour Alex 'Eck' More (formerly of Disco Eck and The Funkettes). Eck oozes experience and charisma his diverse musical talent means that he is the ideal driving force; a superb frontman.
The incredible Marty Wade, a multi-instrumentalist, songwriter and veteran live performer, is the resident honky-tonk master for Five Grain Whisky and can always be found perfecting his sound behind an ever-growing collection of boards.
A relative newcomer to the live-scene, Roger Gardner earned his original stripes under the tutorage of the legend, Laurie Hamilton. He's a self-confessed disciple of both Clapton and Bonamassa and will always give them both a decent and hearty run for their money.
Finally, the backbone of the band, from the award-winning GT Boos Band and punk rockers, Debrasco, are the illustrious drummer and acclaimed bassist, Allan Huntly and David 'Aky' Atkinson. Their coveted and long-awaited reunion rounds up this exciting and spirited line up.
Tickets available here