Ian Siegal Band with support by Jed Potts & The Hillman Hunters + The Husky Horns
November 18, 2016 @ 7:00 pm

-

11:00 pm

£18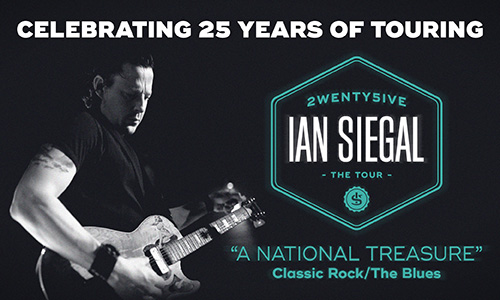 IAN SIEGAL BAND: THE TWENTYFIVE TOUR
Ian Siegal is often described as the most compelling and admired contemporary Blues artiste to have come out of Britain since the icons of the sixties. In 2016 he celebrates 25 years of touring with his band. To mark this milestone he will tour a program of songs drawn from his catalogue of album releases.
His first professional show with a band was in 1991 – a time when blues was decidedly unfashionable. Gaining a presence as a 20-year old singing the blues was not easy. Thankfully he persevered, going on to release numerous acclaimed albums and accumulating more British & European awards than you can shake a stick at (11 at the last count), together with three nominations in the USA Blues Music Awards, effectively the Grammys of the Blues. This puts him a long way ahead of his contemporaries on this side of the Atlantic. Interestingly all these awards have come in the past five years, suggesting that there's a lot left in the tank.
"You gotta pay your dues to play the blues" and pay his dues he certainly has: from busking on the streets of Berlin as a teenager, to grueling 3-hours-a-night club residencies, to hair raising treks across eastern Europe. His cv now includes shows in 35 countries, guest appearances with some of the great names of the blues, and a live album recorded at London's Royal Albert Hall.
To pigeon-hole Siegal as a bluesman is to underrate an exceptional and versatile talent. Blues is just one shade in the palette of an artiste who slips between continents, eras and expectations. His love of nascent rock 'n rollers Little Richard and Elvis, blues titans such as Muddy Waters and Howlin' Wolf, and the experimentalism of Tom Waits, fuels a powerful voice and magnetic stage presence.
In 2014 he assembled a new band – his best ever, says Ian – and in March 2015 released a universally praised album One Night In Amsterdam, recorded in front of an audience at the North Sea Jazz Club. A retrospective collection of 36 songs written or co-written by Siegal will be released as a deluxe album edition in the autumn.
"A national treasure."
CLASSIC ROCK /THE BLUES
"Awash with wit, lust and distraction…..the cleverest writer and most magnetic performer of Blues in the UK."
MOJO
Support by Jed Potts & The Hillman Hunters + The Husky Horns
Formed in 2008, Jed Potts & the Hillman Hunters have cultivated a stage performance which is exciting and spontaneous. Drawing from the rich well of classic 50's and 60's American blues the trio (completed by drummer Jonny Christie and bassist Craig McFadyen) stay true to the traditions of the music whilst also taking risks. Whether laying back into a Freddie King ballad or digging-in to a hypnotic Muddy Waters groove, the band transmits power in ways other than speed and volume. The unlimited dynamic possibilities of a simple trio format make for a charismatic performance which is different every single night.
JP & the HH have supported the likes of Ian Siegal (who joined the band on stage for a performance of Muddy Waters' 'Long Distance Call'), Ben Poole (the line-up for this show consisted of Jed, Pauric, Eilidh McKellar on 2nd guitar and Neil Warrack on drums), Aynsley Lister, Pat McManus, Paul Garner and The River Devils. JP & the HH have performed at the Maryport Blues Festival, The Edinburgh Jazz & Blues Festival, Shetland Blues Festival, The Bell Rock Blues Festival in Arbroath (this show featured special guest Cameron Gray of The Pentatonics on harmonica) and Jed also appeared as part of Tim Elliot's Troublemakers band for a show at the 2011 Edinburgh Jazz and Blues Festival. Later that same year Jed played with Jerry Donahue and Gregg Wright as part of a series of special events in Edinburgh. Jed has also performed three shows as part of an expanded version of Blues 'n' Trouble when they played with (and as back-up band to) Maggie Bell.
This extended lineup will feature Jonny Christie on drums, Craig McFadyen on bass, with The Husky Horns of Tom Pickles (sax), Charles Dearness (trumpet) and Ross Lothian (trombone).
This show is available to members of Edinburgh Blues Club with no additional ticket charge. Non-member tickets available for £18 from preceding Edinburgh Blues Club shows, Ripping Records, Tickets Scotland and Ticketweb or on the door (subject to availability) without any additional booking charges.