Kirk Fletcher with support from Sandy Tweeddale Band
September 28, 2016 @ 7:15 pm

-

11:00 pm

£15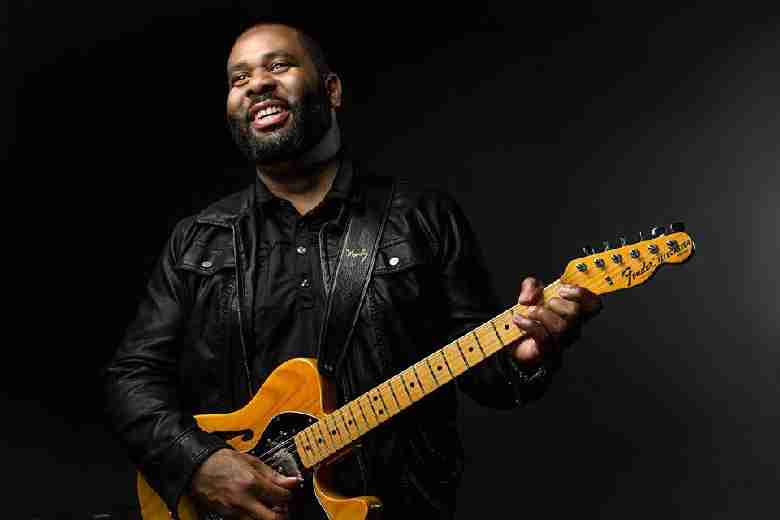 Kirk Fletcher
Widely considered one of the best blues guitarists in the world, Kirk Fletcher has commanded the respect and acclaim of critics, peers and fans across the globe. He is a four-time Blues Music Award nominee and has played with a variety of popular artists, including a four-year role as lead guitarist of The Fabulous Thunderbirds. He is also the frontman of his own band, having released three studio albums and a live album. A fourth studio album is currently in the works.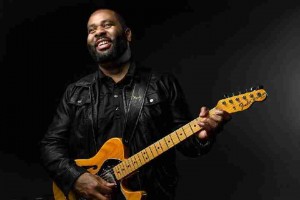 Kirk first picked up a guitar at age eight, playing alongside his older brother Walter in their father's church. It wasn't just a gospel influence that Walter shared with Kirk, but an appreciation of many musical styles from Jimi Hendrix to Steely Dan. One of the most important lessons Kirk received from his brother was about having great guitar tone, something Kirk is known for today.
That early experience guided Kirk through high school as a member of the jazz band, and by graduation he was collaborating with friends and taking off on road trip tours around Southern California. Many of those friends have gone on to play with popular artists like Mariah Carey, All-4-One, TLC, and Snoop Dogg. However, pop music was not Kirk's passion. One day he found himself in a small L.A. guitar shop, Music Works, which ultimately became his second home after meeting Jeff Rivera, Robben Ford's guitar tech.
"We started hanging out and I would help load gear, change strings and just be a fly on the wall to some of the most amazing music I've ever heard," Kirk remembers. "The sound of Robben's guitar will ring in my head forever. This was a very important musical time for me because I had nothing to do but play guitar."
It was in the next few years that Kirk's full introduction to traditional blues occurred. He started seeking out other musicians who shared this same understanding – enter Al Blake, lead singer and harp player for the Hollywood Fats Band. After hosting dinner every Sunday, Al would offer Kirk early 20th Century blues records as dessert. He also helped establish connections to other famous West Coast blues artists like Junior Watson and Richard "Lynwood Slim" Duran. So followed Kirk's first gigs as a blues guitarist and eventually the recording of his first album I'm Here and I'm Gone for the JSP label out of England.
Al Blake would also introduce Kirk to Kim Wilson of The Fabulous Thunderbirds, who invited him into his then-project, Kim Wilson's Blues Revue. Wilson brought Fletcher further into the blues family from California to Texas and then out touring the world. One highlight during this time was at Antone's Night Club 25th Anniversary Week in Austin, Texas, which gave Kirk the opportunity to perform with his blues heroes Pinetop Perkins, James Cotton and Hubert Sumlin. Wilson also tapped Kirk to play on his Grammy-nominated Smokin' Joint live album. Shortly thereafter a call to collaborate came from blues legend Charlie Musselwhite, confirming that Kirk was becoming one of the most in-demand blues guitarists on the scene.
"This is where I really developed my own sound and Charlie was cool with me being me," recalls Kirk. It also brought about his second solo recording titled Shades of Blue for Delta Groove Music. "I found a happy place between the music I grew up on and the blues I'd been playing up to that point." Timing couldn't have been better to explore these shades of blues as Kirk collaborated a who's who of blues players on the project, including singers Kim Wilson, Janiva Magness and Finis Tasby. Little did Kirk know that the timing would also line up for an open guitar slot with The Fabulous Thunderbirds around the same time.
So began four years on the road with the Thunderbirds and time spent with many famous blues artists along the way, including a brief stint with the late Doyle Bramhall Sr. and a few guest appearances playing for Cindi Lauper and Michelle Branch. Kirk contributed to the Thunderbirds' Paint It On album before embarking on another record of his own, a release entitled My Turn on the Delta Groove label. His boldest statement yet, it was also Kirk's first vocal performance. It allowed him to grow and explore as a musician and songwriter steeped in tradition yet unafraid to break new ground. Since then Kirk has been singing and leading his own band between the occasional international tour as a member of blues super-group The Mannish Boys and as lead guitarist for Italian mega-star Eros Ramazzotti. He just finished a live album, joined Joe Bonamassa's live tribute to the three Kings of the Blues and is currently in the studio recording his next project.
http://kirkfletcherband.com
Sandy Tweeddale Band
As well as being the long-standing lead guitar for the WC Handy award-winning band Blues N Trouble and also Tim Elliott and The Troublemakers, Sandy has been the guitarist for and toured with swamp blues harmonica master Lazy Lester. Sandy was in The James Burton Band (Elvis Presley's one-time guitarist) and has been, for several years now, a member of Maggie Bell's Band. He will be working with Maggie again in 2016. He has also performed with Otis Grand and last year appeared with US bluesmen Ben Rice ,Brandon Santini and Mr Sipp.
Over the years Sandy has supported many leading blues, and other, musicians including Buddy Guy, Peter Green, Bert Jansch, Robert Cray, Jack Bruce, Van Morrison, Eric Burdon, Canned Heat and Bill Wyman's Rhythm Kings, and has recorded with Blues N Trouble, The Blue Hyenas, The Troublemakers, Texas Breakfast and The Coaltown Daisies as well as making his own solo albums.
This show is available to members of Edinburgh Blues Club with no additional ticket charge. Non-member tickets available for £15 from preceding Edinburgh Blues Club shows, Ripping Records, Tickets Scotland and Ticketweb or on the door (subject to availability) without any additional booking charges.