Northsyde & The Gerry Jablonski Band
March 2, 2018 @ 7:30 pm

-

11:00 pm

£13
Event Navigation
Friday 2 March 2017 – Northsyde & Gerry Jablonski Band
Northsyde
Founded in 2005, the four piece Northsyde began life as Funkydory. Their debut album "Still" was released in 2006 to fine reviews, and the band toured consistently for the next several years in support of it, and growing a dedicated fanbase. With a grooving combination of Rock, Funk and a serious nod to the Blues – their follow up album "Mercy's Medicine" was released independently in 2009, again to strong acclaim. This was followed by "Storyteller's Daughter" in 2014 (nominated for "Best British Blues Album" in the same year).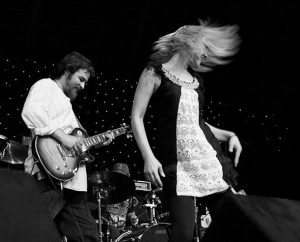 The band is fronted by vocalist Lorna Fothergill, who is also the main lyricist and songwriter. With a dynamic and powerful vocal style, she has been described as "Robert Plant meets Aretha, with a hint of Janis". Guitarist Jules Fothergill is well respected amongst his peers for developing an unorthodox mix of melodic and rhythmical improvisation, whether playing lead or slide guitar in a wide variety of musical settings. Bassist Ian Mauricio has an unusual style, being left handed, and stringing the bass upside-down, again contributing a musicality to the group which defies placement in any particular niche. Completing the line-up is drummer Hayden Doyle, whose confident grooves combine to give the band a sound quite unlike any of their contemporaries on the modern Blues and Rock circuit. The quartet have remained together for over 10 years and their on-stage chemistry continues to be a defining attribute.
With each member of the band having unique and diverse influences, their style is eclectic, but identifiable. A heady mix of soulful Blues, shaking Funk, and Zep-style riffing, it has been best described as what you'd get from "Stanley Clarke strapped to the front of a Intercity 125 with Janis Joplin driving." – while not fitting into an easily defined pigeon-hole, sampling their music live is usually the best introduction. With little interest in recreating any specific musical era or idiom, they prefer to blend together their own individual contributions to form a distinct and energetic combination.
Thanks to a consistent approach to performing, Northsyde have grown into a well oiled music machine, capable of entertaining even the most discerning audiences. Their many career highlights have included performances from Guilfest to the Maryport Blues Festival, from London's Ealing Festival to the Cambridge Rock Festival, from headling the Hebden Bridge Blues Festival to supporting Joe Bonamassa in London. Recent years have also seen them performing as far afield as Holland, Italy, Germany, Russia, India and the Carribean.
Gerry Jablonski Band
A four piece blues rock powerhouse that never fails to win over their audience as they take them on a rollercoaster ride of original music that pays tribute to the blues rock classics that have influenced this band.
In the five years they have been together the band have released 3 albums, included in Classic Rock blues magazine top albums of the year and have enjoyed airplay on BBC Radio 2 Paul Jones Blues Show. With a work ethic second to none the band have clocked up 4 extensive and successful Polish tours, tours in Holland, Germany and Norway and played all the major UK blues festivals.
The band take no prisoners, reeling in the audience and giving off so much energy the crowd have no choice but to bathe in the reflected glory of four musicians letting it rip and giving their heart and soul to the performance. There are no airs or graces or niceties – gutsy rock n roll and with memorable melodies, sweet harmonies and a powerhouse rhythm section – an absolutely refreshing and life affirming experience that only a truly phenomenal performance can bring.
Show takes place at The Voodoo Rooms from 7.30pm until 11pm.
All Edinburgh Blues Club members can attend with no additional ticket costs. Non member tickets available for £13 from Ticketweb https://www.ticketweb.co.uk/event/291775, Tickets Scotland and all preceding Edinburgh Blues Club shows.