Rob Tognoni
June 22, 2018 @ 7:30 pm
£15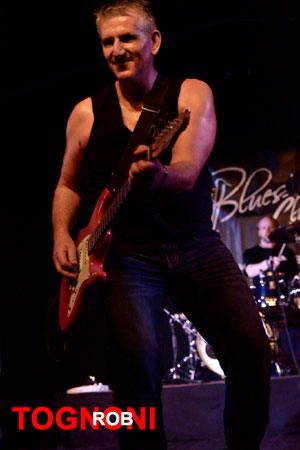 Friday 22 June 2018 – Rob Tognoni + Andrew Robert Eustace Band
From Australia & introduced to Europe by blues master Dave Hole in 1994, Rob Tognoni delivers a 100% powerfully charged experience with every performance. There is simply no compromise, which is strongly evident in his music. After 30 years his explosive guitar playing and unique songs are now being compared with the greats of his genre and have firmly established him in the European venues & festivals as well as gaining many fans of hard blues rock worldwide.
"Only Jimi Hendrix, Rory Gallagher and Stevie Ray Vaughan could shake hands with him if they were alive. Tognoni has something that only few guitarists have: character and his own style…" Music Machine
"Australian Rob Tognoni is one of the finest guitar players around today. His work is a combination of classic rock, blues & blues rock and is done with utmost passion and precision…" Bandit Blues Radio USA.
"Certainly, nothing can stop Rob Tognoni…." Music In Belgium
"Prolific, energetic and statuary, one of the few true guitar heroes of the 21st century…." Bluestime – Italy
"You have to admire Rob Tognoni's stamina. He is able to sustain a ferocious pace, few could manage it…Perhaps his stamina is the consequence of 30 years conditioning. Perhaps it's natural selection…" Blues In Britian Magazine – UK
"The Australian Rob Tognoni is one of the best and also one of the most uncompromising, as well as virtuoso blues-rock guitarists in the world…" Bluesnews – Germany
"When you listen to his music, you hear a 40 year legacy under his searing lead lines…" Total Guitar Magazine UK
"A stunning guitarist with killer licks, and a fine blues rock feel…" Jazz FM, London UK
Andrew Robert Eustace Band
Andrew Robert Eustace spent 2016 raising his profile as a blues entertainer with Catfish Blues, playing events like Butefest and Callender Jazz and Blues festival.
Following high profile show with the likes of New York blues singer Sari Schorr, Stevie Nimmo, JW Jones and Gerry Jablonski Band he's bringing his band and his debut album "Stories" to the Edinburgh Blues Club for the first time.
Show takes place at The Voodoo Rooms from 7.30pm until 11pm.
All Edinburgh Blues Club members can attend with no additional ticket costs. Non member tickets available for £15 from Ticketweb , Tickets Scotland and all preceding Edinburgh Blues Club shows.