Sari Schorr
March 9 @ 7:30 pm

-

11:00 pm

£15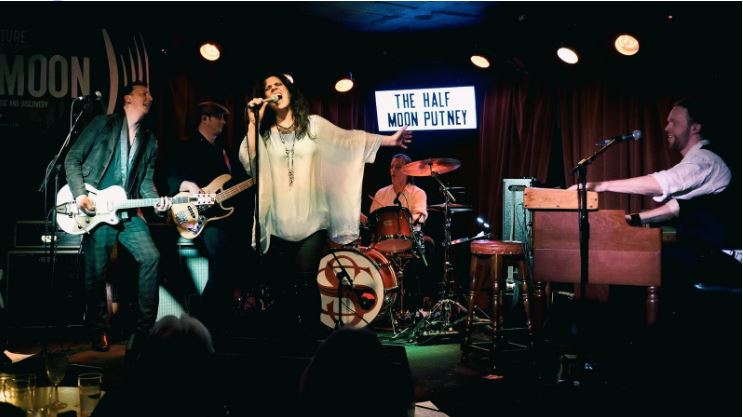 Friday 9 March 2018 – Sari Schorr + Rain Reserve
The First Lady of Blues: Direct from the New York Blues Hall of Fame
A voice of breathtaking quality and power and a live show that erupts like a volcano have catapulted Sari Schorr into the spotlight as the new undisputed star of Blues Rock.
Sari's world-class band is now powered by phenomenal Ash Wilson on lead guitar, keyboard/organ player Bob Fridzema, Mat Beable on bass and Roy Martin on drums.
With an award-winning album produced by iconic blues pioneer, Mike Vernon and a world-class band – this is a show every blues and rock lover should run to see.
Official Video:
Press Quotes:
"The New York lady is the realest of deals, a vocalist of stunning power and a beguiling, spellbinding performer. From the second she bounded on stage there was a knowing sass to the performance, oozing both confidence and charm aligned with natural charisma that established an immediate connection with a raucous crowd that were there to lap up every second with fervour." – Nigel Foster
"The crowd at the Half Moon were treated to an exceptional show and one that suggests that if you dig Blues music you should sell your soul for a ticket to see her on this tour." – Andy Snipper for music-news.com
"Sari appears to be in the calm eye of the storm as the room around her is twirled and twisted like a hurricane from her overwhelming performances. Just one visit with this emotionally-charged critically acclaimed performer will assure you that this vocal volcano is a real-deal Force of Nature." – Cleve Baker for Blues Bender
"Sari takes female blues rock vocals to another dimension and owns her style. Sari Schorr is an artist in her own right, deserving her own critical acclaim and deserving of being a New York Blues Hall of Fame inductee, Nominated Best Vocalist – European Blues Awards 2016, 2017, and awarded Best Blues Rock Performance Award – WRC 2016." – Richard Bolwell for MNPR Magazine
"The evening had everything, head-spinning blues rock vocals, jazzy and soulful vocals, world-class guitar playing with this all underpinned by a tight rhythm section. Soaked with influences from the great pioneers of the blues, you can also think, Beth Hart & Robert Plant style vocals with the energy and stage command of Tina Turner." – Richard Bolwell for MNPR Magazine
"Sari Schorr is simply too good to be typecast. She is blessed with an incredible voice – one so good, in fact, that it is time to stop saying she has the best voice in blues as we have before on this site – quite simply she has just about the finest voice in modern music." – Garry Foster for Maximum Volume Music
http://www.sarischorr.com
https://www.facebook.com/SariSchorrMusic/
Tweets by SariSchorr
https://www.instagram.com/sarischorr/
Support by Rain Reserve – A songwriting partnership, forged in the wilds of Scotland. Edinburgh native and smooth jazz operator, Lorna Reid combines forces with dustbowl blues Glaswegian John Alexander. Together they create a unique blend of folk blues and country music. Influences like Muddy Waters, John Martyn, Bonnie Raitt, Joni Mitchell and Willie Nelson. Every word that pours from the pen comes from the heart. 'Lorna Reid… One of Scotland's most talented singer-songwriters' (Music News Scotland). 'Think Robert Johnson by way of Mark Knopfler… Just how the blues should be' (Sunday Herald).
http://www.rainreservemusic.com/
Non member tickets available for £15 from all Edinburgh Blues Club shows, Tickets Scotland and online at:
Friday, Mar 09, 2018 7:30 PM GMT
Sari Schorr + Rain Reserve
at The Voodoo Rooms – Edinburgh,{4}
£15.00 Get Tickets >>