Stevie Nimmo Trio with support from GT's Boos Band
September 21, 2016 @ 7:00 pm

-

11:00 pm

£15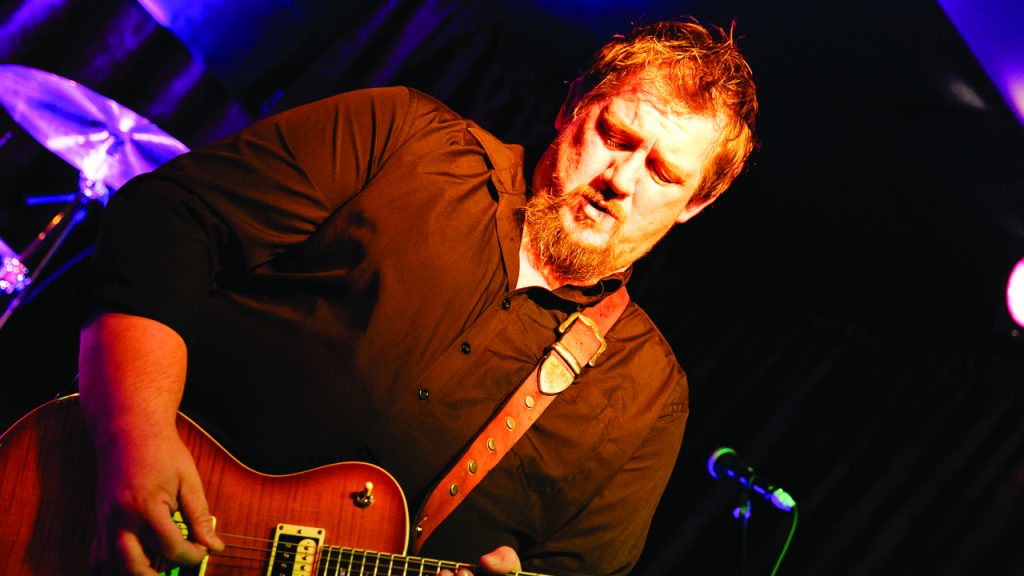 Stevie Nimmo has been successfully recording and touring for the last two decades.
Born and raised in Glasgow, Scotland there was always music around as Stevie grew up. Stevie never had any guitar or singing lessons but throughout the family there were plenty of people who sang or played some kind of instrument to learn from.
After a diagnosis of cancer in 2009 and subsequent surgery resulting in the loss of his voice for over 2 months, Stevie, now living in France, was forced to ease back on his touring schedule with The Nimmo Brothers spending some months in recovery following this major operation. During this period, focusing on the style of music Stevie listens to 'off the park', he wrote the songs that now make up The Wynds of Life. For Stevie song writing isn't something that you plan, it's something that you need to do. As Stevie says; "When you have that something inside you, that feeling be it happy or sad, you just have to let it out. It's an extremely emotional process and my only way to do that is through song".
In January 2010 Stevie recorded his first solo album The Wynds of Life at The Zone recording Studios outside Austin, Texas with an A-list of Austin's finest musicians. Michael Ramos – Keys, George Reiff – Bass, Lloyd Maines – Steel Guitars, Pat Manske – Drums, and as a special guest guitarist David Lee Holt from Storyville. George, Lloyd and Pat are also featured on the current Courtyard Hounds release.
Award winning blues rock guitarist and singer-songwriter, Stevie Nimmo, released his second solo album "Sky Won't Fall" via Manhaton Records on Friday 4th March. One half of the Nimmo Brothers, this is Stevie's second solo release since 2010's debut acoustic album, The Wynds of Life.
Stevie's new album starts with the flick of a switch. Then a squeal of feedback. Finally, the mother of all blues-rock riffs rises from the white noise, and Sky Won't Fallraces out of the blocks in style. If the prospect of a new solo album from this titan of the British music scene didn't already have your undivided attention, then thirty seconds into Chains of Hope, Stevie Nimmo has you by the lapels.
Released by Manhaton Records (the same label that releases King King's albums), it's a curious realisation that Sky Won't Fall is only the second solo album of Stevie's decorated career. In mitigation, the Glaswegian bandleader has been busy: since the late-'90s, there has been the small matter of helming legendary blues-rock outfit The Nimmo Brothers alongside younger sibling Alan. Indeed, Sky Won't Fall was recorded in just ten days snatched between Nimmo tour commitments. "It was a bit frantic," admits Stevie. "But even with all the madness, the project went very well."
'Man that guy can sing!' David Grissom (storyville)
'Stevie's voice is at times gritty, other times emotional but all times perfection!' Maverick magazine
Support by GT's Boos Band
GT's Boos Band are an electric indie/blues band led by guitarist John Boos and lead vocalist Greig Taylor. Completing the line up and providing the driving groove is bassist David Atkinson and drummer Allan Huntly.
A little over five years have passed, since October 2010, when self taught blues guitarist John Boos approached singer GT about hooking up for an acoustic jam. After two years touring the circuit as an acoustic duo, and building a significant local following in the process, they together devised the idea of the GT's Boos Band electric blues project.
Very quickly they wrote and recorded debut album Steak House, which was released September 2013 to substantial critical praise in the worldwide blues press. The album featured on Paul Jones' eponymous BBC 2 Radio show, with the renowned blues DJ proclaiming them to be "excellent" and in "Howlin' Wolf mode". Top reviews soon followed in prominent music magazines such as Blues Matters, Blues in Britain, R2 Magazine amongst others.
Steak House was nominated as debut album of the year for 2013 in German Rock magazine Wasser-Prawda, who stated "this band could give the top dogs of the British Blues rock, King King, some real competition very soon." Steak House was also nominated in the British Blues Awards 2014 for Album of the Year. In early 2015 Canada's Blues and Roots Radio featured Steak House as 'Album of the Week', proof if needed that the album was still reaching out a full eighteen months after initial release.
The GT's Boos Band sound combines the first class guitar playing of John Boos, or as put by Blues Matters magazine the "exquisite guitar playing of John Boos", alongside the powerful and heartfelt rock/soul vocals and lyrics of front man Greig Taylor. This, backed by a tighter than tight rhythm section, has enabled the group to firmly establish themselves as one of Scotland's leading bands playing blues based material.
This show is available to members of Edinburgh Blues Club with no additional ticket charge. Non-member tickets available for £15 from preceding Edinburgh Blues Club shows, Ripping Records, Tickets Scotland and Ticketweb or on the door (subject to availability) without any additional booking charges.