SugarRay Rayford
January 15 @ 7:00 pm

-

10:30 pm

£17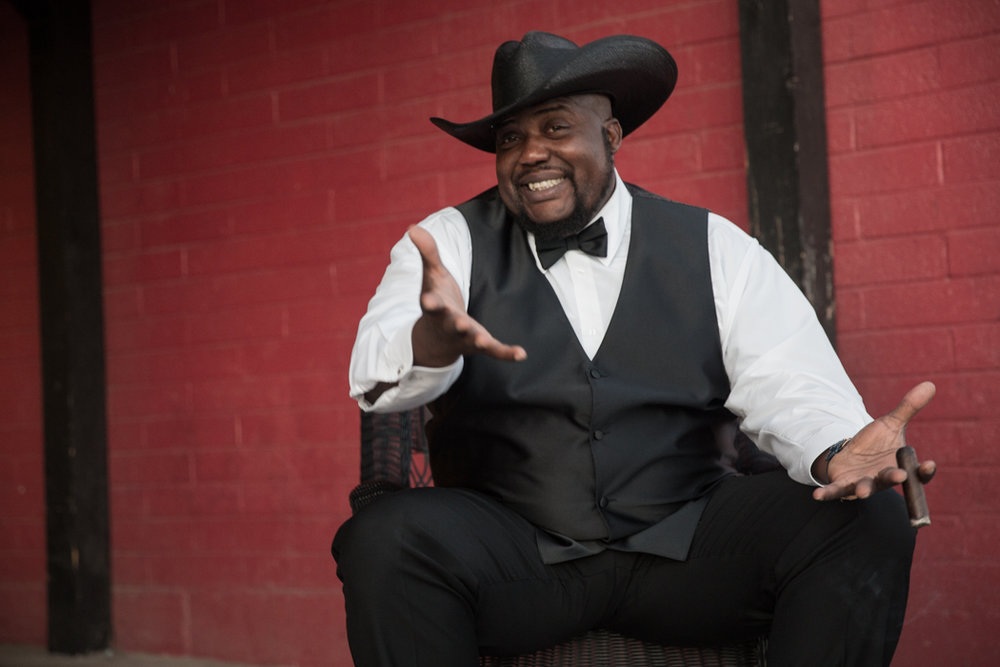 "SUGARAY" RAYFORD IS AN AMERICAN ELECTRIC BLUES SINGER AND SONGWRITER. HE HAS RELEASED FOUR ALBUMS TO DATE AND IN 2017 WAS NOMINATED FOR 4 BLUES MUSIC AWARDS.
"Sugaray is a first-rate blues artist with a deep-running, church honed soulfulness."
— Living Blues Magazine
When Sugaray belts out a song, you not only hear it, you feel it. The excitement in the room is palpable when he takes the stage; he is a superb vocalist and entertainer. His dynamic voice is large just like the man. With his old school vocal style, echoes of Muddy Waters, Otis Redding and Teddy Pendergrass can be heard. At 6'5" he is a big man, but he moves with grace and energy. His fluid dance steps will remind you of the Legendary James Brown.
SUGARAY RAYFORD NOMINATED FOR 4 BLUES MUSIC AWARDS!
Sugaray Rayford is nominated for, count 'em, four awards for the 39th annual Blues Music Awards in 2018. The four nominations are:
Soul Blues Album – The World That We Live In
Soul Blues Male Artist
Instrumentalist – Vocals
B.B. King Entertainer of the Year
"The nominees for the 39th Annual Blues Music Awards represent a prestigious collection of acclaimed performers and rising stars that reflect the breadth and diversity of today's blues music scene."
— The Blues Foundation
THE BAND
Sugaray has fronted his own band since 2010, called the Sugaray Rayford Band. This band is currently made up of world-class musicians who tour extensively internationally: Drake "Munkihaid" Shining on keyboards, Alan Markel on bass, Lavell Jones on drums, and Allan Walker on sax. Ralph Carter is Suga's writing partner, joining the band on bass for live gigs on occasion.
THE WORLD WE LIVE IN
The Sugaray Rayford Band is only one of his projects. With the help of Blind Faith Records, Sugaray presents his debut soul album project, 'The World That We Live In.' This collection of ten original songs carries the gift of universal appeal that towers above tastes and trends, and it's an album destined to become an instant classic. The World That We Live In is all original material with the feel of 1960-70's soul. A full band with horns, strings and back-up vocals complete this old school feel.
Italian soul ambassador Luca Sapio made it his mission to bring Sugaray's music to the forefront by recording this album. In order to create the most authentic sound possible, it was recorded in Luca's analogue studio in Italy, with racks of vintage gear and a killer house band. What they have so magically created is an album which sounds like an instant classic.
Andy Gunn Band
Recently heralded as 'a great lost Scottish talent and one of our finest ever blues players', Andy Gunn's inspirational return to the music scene was proclaimed, in his own undeniable style, by the acclaimed 2015 album Miracle of Healing.
Andy's truly original, intuitive and soulful playing has drawn comparisons to Stevie Ray Vaughan and Jimi Hendrix. He has shared the stage and billing with some big names too – highlights of his career this far include supporting Buddy Guy at The Queens' Hall, jamming with Albert Collins and backing Geno Washington at the first Belladrum Festival.
Andy pays tribute to his parents for the gift of his first guitar at an early age, and to his mother's rock'n'roll collection for leading him to Blues masters like Lightnin' Hopkins and Muddy Waters. This early development formed a precocious talent – Andy's first band Jumpin' the Gunn were signed by Virgin's blues label, Point Blank, and they travelled to Memphis just as he was leaving school. This early experience gave Andy the enviable opportunity to learn from and exchange riffs with Al Green's rhythm section and Pop Staples, to name a few. Here, his raw talent developed into a prodigious touch which led to Andy being ranked as a world class talent.
When Andy returned to Scotland, a new chapter in his career began. He played alongside The Sensational Alex Harvey Band, with members of Gary Moore's Midnight Blues Band, Martin Stephenson, and toured with 4 times British Blues best harp player Errol Linton. Years later Andy was to return to the US, on a voyage of musical discovery touring New York, Chicago, Memphis, Nashville and New Orleans, jamming with many great musicians, igniting the music scene and sparking the comment 'damn, I didn't know they picked cotton in Scotland!'.