Wille & The Bandits
March 21 @ 7:30 pm

-

11:00 pm

£13.50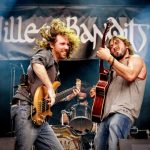 Essentially Wille and the Bandits is a classic blues rock three piece much in the vain of Cream or The Jimi Hendrix experience. But in a similar way to how these bands pushed the genre in their time, Wille and the Bandits try to take their sound beyond what is expected of such a traditional line up. The use of more bizarre instrumentation and eclectic influences in the song writing often pushes them more into a world music or progressive category. Having toured with artists such as Deep Purple through to the John Butler trio and played major festivals across Europe, the band seem to leave an equally astounding impression on audiences of all ages and musical backgrounds with their energetic and soulful performances. They have received great critical acclaim, being voted in the top ten must see bands at Glastonbury 2014 by BBC Radio 1 and reaching number 2 in the UK blues chart with their first single on downloads alone.
Now touring their third independently released studio album Wille and the Bandits fan base, repertoire of sounds, styles and innovation seems to be growing at an exponential rate. The band are praised in the press for their albums; bursting at the seams with textures, originality and soul. Rock legends such as Ian Paice, Joe Bonamassa and Francis Rossi have also praised the band's musicianship and their unique edge to Rock and Blues. It's rare to find a band as dynamic as Wille and the Bandits, one that is just as comfortable and as impressive at both ends of the sonic spectrum. In the modern age of disposable music it is refreshing to hear a band that still value the art of creating albums and who continue to bring new instruments and ideas into their songwriting rather than settling for a tried and tested formula. Ten seconds of Youtube will not scratch the surface of the band's sound and message; this is a band that is very much about discovery and one best experienced LIVE!
Support from Rainbreakers
Crafting their sound into a fusion of dynamic elements, Rainbreakers bridge the gap between blues, rock and soul. Showcasing their original material using gritty guitars and soulful vocals, their songs shift from heavy to delicate in an instant while remaining highly emotive and pulling everyone in around them.
With their highly anticipated debut album, "face to face" released in August 2018, having been recorded at monochrome productions with renowned producer, Tom Gitttins (Robert Plant, Broken Witt Rebels), Rainbreakers are proving to be a relentless force, ensuring they a name on everyone's lips.
Having toured across the UK and mainland Europe, this tenacious four-piece from the West Midlands, have won over crowds with their unmistakable sound. sharing stages with artists such as Kris Barras band, Samantha Fish, Devon Allman, Wille and the Bandits, Ryan McGarvey, the London Souls, Bad Touch, Sly Digs and Laurence Jones.
Rainbreakers have been playing to capacity crowds at iconic venues such as The 100 Club, The Borderline, The Sage and Rock City. Performances at festivals like the Great British Rock and Blues and Wilderness Festival have seen the band receive accolades including nominations for the UK Blues Challenge and Best Emerging Artist in The British Blues Awards 2016. Cementing Rainbreakers status as one of the brightest acts to materialize in recent times.