Edinburgh Blues Club present MARCUS MALONE + Lewis Hamilton Band £13 – Thursday 27th Nov 2014
Edinburgh Blues Club proudly present Marcus Malone &  Lewis Hamilton
Thursday 27 November 2014 The Caves Edinburgh 8pm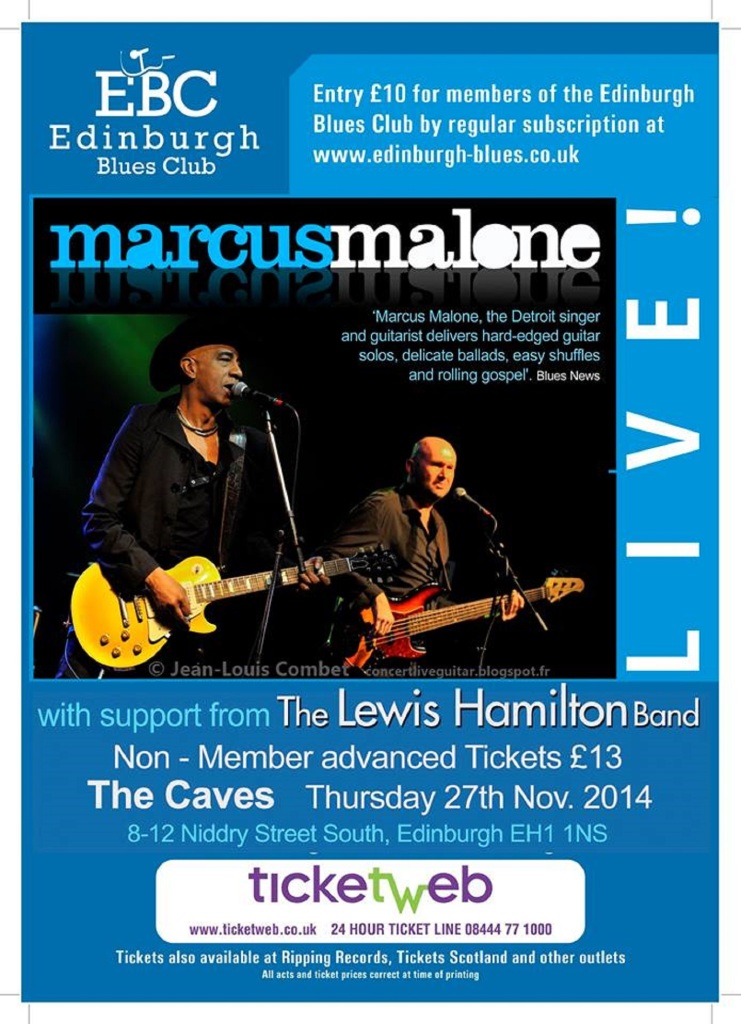 These tickets are on sale for Marcus Malone + Lewis Hamilton. Skiddle.com is an official ticket outlet for this event. All credit card purchases you make at Skiddle.com are encrypted through our Secure Server Technology
Malone, a Detroit native and current UK resident, is without question one of the finest vocalists to be found in the blues, blues/rock, or rock genres. He has a very Paul Rodgers like quality to his voice which is excellent for the multiple styles of music he plays.
Originally from Detroit, Michigan USA, Marcus Malone lived near Hitsville and grew up listening to Motown grooves. He is now settled in the UK but his early Detroit and LA influences still flavour his music.
Marcus has performed at the Royal Albert Hall, Burnley and Colne Festivals in the UK; Harlebeke Blues Festival in Belgium; the Bospop Festival in NL; Valdagno(Vicenza)Blues Festival in Italy; and various UK Art Centres and Blues Clubs. Marcus ended 2013 by headlining the Tenby Blues Festival in Wales.  Marcus is presently working the European blues circuit, festivals and concert halls including tours of Belgium, France, Germany and Netherlands. Live performances in 2011-2013 in the Netherlands include Kwadendamme, Tegelen, Huntenpop, Oisterwijk, Hoogeveen, Geithoorn, Enchede and Texel Festivals. The Luxemburg Festival in Luxemburg. In France he performed at the Pleins Feaux Festival 2013 in Bonneville which was filmed for French TV distribution and internet TV. Other Festivals and large venues in France included 'American Journeys' in Cambrai, Fete de la Musique in Marc En Baroeul, Presqu'ile Blues Festival in Ambialet (opening for The Straits), Buc n' Blues (Buc France), Blues & Rock Festival in Segoufielle and Le Show Room, Valenciennes France and in Germany at the Caf' Conc' des 3 Frontiers venue.
In 2013 Marcus completed recording his 6th CD – 'Stand or Fall' released on 21 April 2014 by Redline. Another collection of original blues based rock songs mixed by Jerry Stevenson and mastered by Mazen Murad at Metropolis Studios, London. On guitars – Sean Nolan, Julian Burdock, Stuart Dixon, Bill Burke. On bass – Winston Blissett of Massive Attack. Christopher Nugent on Drums and on keys Roger Cotton and Moz Gamble. On harmonica Will Wilde and Alan Glen. On bv's Chantelle Duncan-Heath, Dani Wilde and Eno Williams-Uffort.
"His songs and performance manage to bridge the distance between contemporary and vintage, blues, blues rock and soul with themes that are timeless rather than dated." Bill Wasserzieher © Blues Revue USA
http://www.marcusmalone.com
[lyte id="taCOMdGAcFc"/]
Support by Lewis Hamilton Band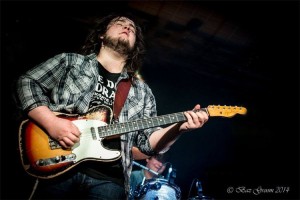 Since their formation in August 2010 The Lewis Hamilton Band have been booked for over 400 shows from Shetland to Poland, and have appeared at most of the UK's biggest blues festivals, including Main Stage performances at Hebden Bridge and Maryport. As a guitarist he pays tribute to some of the greatest musicians of the 20th century, taking influence from people like Stevie Ray Vaughan, Jimi Hendrix and Rory Gallagher.
He also incorporates playing styles from more modern blues-rock musicians such as, Joe Bonamassa, Derek Trucks and Matt Scofield. As a vocalist he has developed his own unique and powerful style of singing, while taking influence from the likes of Joe Cocker and Dave Mathews.
His debut album Gambling Machine won the Scottish New Music Award for Scottish Jazz/Blues album of the year for 2012. Candlelight & Sympathy from Empty Roads will feature on the soundtrack of a new feature film 'Scar Tissue'. His third album Ghost Train has had numerous top reviews and acclaim from magazines and websites worldwide, and airplay in over 15 countries. In addition to his previous nominations in the 2012 and 2013 British Blues Awards and receiving two preliminary nominations in their song-writing category, Lewis has been nominated yet again as YOUNG ARTIST of the Year in 2014.
Lewis has performed with such notable musicians as Aynsley Lister (for whom he filled in vocals at a live show), Ryan McGarvey, Henrik Freischlader, Alan Nimmo, Chantel McGregor and Ben Poole. Lewis also has talent for recording and runs his own studio in Auchterarder, Scotland, where all his music is written, recorded, produced, mixed and mastered by Lewis himself.
http://www.lewishamiltonmusic.com
WeGotTickets Link
Doors open at 8pm. On the door price £15.00