Happy New Year from Edinburgh Blues Club!
The Edinburgh Blues Club would like to thank everyone who has joined the club, bought a ticket, attended a show, performed at the club or helped promote the club some other way. We wish you all the best for 2016 and hope that you will continue to support us during what remains a challenging time for live music.
We're very happy with the range and variety of artists we are scheduled to have performing at the club between now and May. Paul Jones and Dave Kelly sold out two months ago while sales are particularly strong for Danny Bryant with Red Butler and Martin Harley & Daniel Kimbro. Recently we've been working on bringing some additional acts to the EBC in conjunction with the preferences of our members. Registered subscribers to our website can see the results from our members' survey in October and November's listening party here: http://www.edinburgh-blues.uk/poll.
New Shows Announced!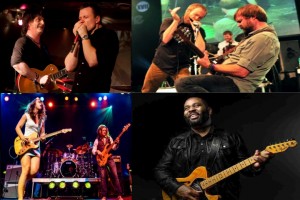 We are delighted to announce three further shows prior to the summer and the first show of our autumn 2016 programme:
Friday 29 April 2016: Gerry Jablonski Band & The Andy Taylor Group
When we asked the members which acts they would most like to return to Edinburgh Blues Club, the most popular band to emerge was the Gerry Jablonski Band! The band will return to the EBC for a record third appearance with support from the Andy Taylor Group – a great young band from Orkney.
Saturday 18 June 2016: Moreland & Arbuckle & Black Cat Bone
Another very popular choice was Moreland & Arbuckle who are the newest band to join Alligator Record's roster. As Bruce Iglauer, Alligator Records founder said recently "Moreland & Arbuckle have the stuff to excite both blues fans and roots rockers. If you like the Black Keys, R.L. Burnside, Alabama Shakes or Little Walter, Moreland & Arbuckle are right up your alley". They will be supported by local favourites Black Cat Bone, who previously supported Brothers Groove at the EBC.
Tuesday 21 June 2016: Samantha Fish & Fraser John Lindsay's Blues Incentive
The most popular choice was Kansas City born singer and guitar player Samantha Fish. Therefore we're delighted to reveal that the 2012 Blues Music Award winner will also perform at the Edinburgh Blues Club in June. Fish's third studio release, Wild Heart, produced by Luther Dickinson is a stunning representation of Americana roots music. Support will come from Fraser John Lindsay's Blues Incentive, who performed a memorable set at our club launch back in May 2014.
Wednesday 28 September 2016: Kirk Fletcher & Sandy Tweeddale Band
Finally for now, we can confirm that the first Edinburgh Blues Club show in the second half of 2016 will be by Kirk Fletcher. Widely considered one of the best blues guitarists in the world, Fletcher is a four-time Blues Music Award nominee and has played with a variety of popular artists, including a four-year role as lead guitarist of The Fabulous Thunderbirds. Support for this show comes from renowned local blues guitarist Sandy Tweeddale.
These shows will all take place at The Voodoo Rooms and they are now on sale at Tickets Scotland, Ripping Records and through Ticketweb. Full details of all these shows and ticket links are available at our website: http://www.edinburgh-blues.uk/
Become a member of the Edinburgh Blues Club
As one year ends and a new one begins, it is worth looking back to this time two years when there was genuine concern about the continuation of paid entry blues gigs for touring acts within Edinburgh. The Edinburgh Blues Club was able to harness popular support for regular blues events in the city and has been one of Scotland's most successful new live music ventures. This success can be seen in an increasing number of blues artists looking to perform in the city and the wide range of blues events now on sale. It all makes for greater choice. Please ensure you don't miss out on the best of these by becoming a member of the club.
With nine shows in the first six months of 2016, we would strongly advise all local blues fans to take out membership of the Edinburgh Blues Club. At £10 per month and no additional ticket costs, it equates to £6.67 per show – even less with joint or annual membership! If you're an existing member, you can add a spouse or partner for a further £8 per month.
Not only is membership is the most cost effective way to see a great range of diverse blues acts but this is the best time to do so. Subject to demand, new members would be eligible to attend our sold out show featuring Paul Jones & Dave Kelly on Wednesday 20 January, so don't delay, join today:
http://www.edinburgh-blues.uk/join/
A fairer non-member ticket
It's always cheaper to attend Edinburgh Blues Club shows as a member as there are no ticket costs in addition the membership subscription. However we do appreciate that those based out of town may prefer to purchase tickets for individual shows.
The Edinburgh Blues Club is happy to announce that starting with the four newly announced shows booking fees and increased walk up charges will no longer apply to Edinburgh Blues Club tickets!
While we will still use third parties to sell our tickets, we have absorbed these into the full ticket price. Therefore irrespective of whether you purchase non-member tickets at one of our shows, from a ticket outlet or on the door (subject to availability); they will cost the same price. We think this is a fairer way to operate and we're sure this gesture will be appreciated.
New Edinburgh Blues Club T-shirts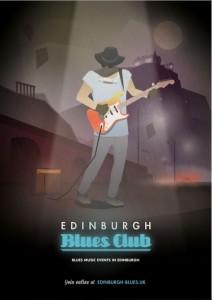 Without external funding, the Edinburgh Blues Club does need to maximise its income from ticket sales, raffle proceeds and club merchandise. Therefore we are happy to announce that following extensive consultation with the club's membership, we are introducing a new range of official t-shirts. Featuring the above colour image there will be standard t-shirts and V neck t-shirts available.
The official Edinburgh Blues Club shirts will be priced very reasonably at £12.50 for Edinburgh Blues Club members and £15.00 for non-members. The shirts have been fully self-funded by the club. We have not yet started taking orders for the shirts however they will be on sale at future Edinburgh Blues Club shows and via our website from January 2016. The other official Edinburgh Blues Club shirt is the dark blue polo shirt with the EBC logo and a limited number of these remain in various sizes.
Please be aware that only by purchasing genuine club merchandise can you help the Edinburgh Blues Club continue to bring great blues acts to the city; while also contributing to the club's chosen charity (see below).
The Edinburgh Blues Club seeks a 2016 charity sponsor
The Edinburgh Blues Club is a non-profit making Community Interest Company which during our company registration nominated Norrdoff-Robbins Music Therapy as the recipient of the company's assets if the club is ever wound up. We have now decided that the club will work in consultation with a nominated should establish a nominated charity for 2016. The charity will benefit from a proportion of our merchandise, including the new shirts, and raffle takings.
Anyone is free to nominate a charity before Sunday 10 January 2016. For more details and how to do so please see the following link:
If you are, or become, a club member, you will be invited to choose from the shortlist of nominations in mid-January 2016.
Finally some things you may have missed…
The Edinburgh Blues Club was recently named as one of 10 heartwarming good cause businesses in Edinburgh you'll want to support!
http://www.wow247.co.uk/2015/12/11/good-cause-social-enterprises-edinburgh/#ixzz3umGzbBrI
Our Press and Promotions Manager Richard recently appeared on STV's The Fountainbridge Show with Richard O'Donnell of Mud In Your Ear to discuss the Edinburgh Blues Club.
On behalf of the EBC committee I would like to wish you all the best for 2016, we lall ook forward to seeing you at a show soon!
Duncan
Chairman & Director
duncan@edinburgh-blues.co.uk