Press Release to announce the establishment of the Edinburgh Blues Club:January 2014
In late 2013 it became apparent there was popular support for the idea of a regular blues club in Edinburgh. The key driver was concern that Edinburgh and the surrounding area might start to miss out on touring blues acts. Following discussions and a successful open meeting with interested parties, the Edinburgh Blues Club has been established.
Our goals are to provide regular live blues events in Edinburgh with touring blues acts from the UK and beyond; with support from the finest local blues artists. We intend to promote a blues event each month (except over the duration of the Edinburgh summer festivals).
Our launch is a fund raiser at The Voodoo Rooms, Edinburgh on Friday 7th March 2014, featuring four superb blues acts from central Scotland: The Black Diamond Express, Jed Potts & The Hillman Hunters, Fraser John Lindsay's Blues Incentive and Houndog Fraser & Rock Hunter.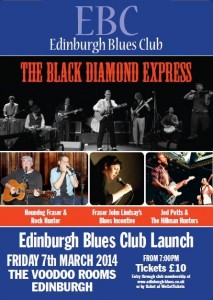 This is followed on Friday 18 April by a headline show by Eilidh McKellar, described by Joe Bonamassa as "one of the brightest players I have encountered in a long time", with support by GT's Boos Band.
The Edinburgh Blues Club is to be run on a member subscription basis, where club members provide a monthly payment of £10 in return for access to the monthly events and newsletter. This will allow a steady income stream and give the members assurances that we will regularly be planning for future events. Membership will be available via our website and at future events from the start of February 2013. General admission to each event will be available. Sponsorship and donations to a regular monthly raffle are welcome as methods of additional funding.
It is our intention to work with the established blues clubs within Scotland and the north of England to mitigate travel costs. Likewise we wish to work with blues, roots and jazz festivals within the region to provide additional bookings for touring blues acts. We all have a deep appreciation for blues music and intend for the genre to be covered in all its guises within the Edinburgh Blues Club.
We believe that a range of different styles will appeal to a broad range of audience. Further bookings will be announced over the coming months. For more information and subscription please visit our website www.edinburgh-blues.co.uk.
Please contact Edinburgh Blues Club at the following email addresses:
Nick McCulloch nick@edinburgh-blues.co.uk
Duncan Beattie duncan@edinburgh-blues.co.uk
Andrew Sinclair andrew@edinburgh-blues.co.uk
Richie Featherstone richie@edinburgh-blues.co.uk