Purpose
The Edinburgh Blues Club is a Social Enterprise established in January 2014 to harness popular support for regular blues events in Edinburgh. The club provide a monthly blues event, featuring touring blues acts from the UK and beyond, with support from the finest local blues artists. We have a choice of venues and a core membership who pay a regular payment for entry to all our events at a discount to individual ticket sales.  The Edinburgh Blues Club features a diverse range of styles with a strong blues influence with varying elements of rock, soul, jazz, funk, country and folk. Every show is different! The club is now the biggest blues club in Scotland and the only one to host international acts.
Membership
While all our shows are on public sale through various outlets, membership of the Edinburgh Blues Club is available for £10 per month. This regular payment covers entry to all our hosted shows, providing a considerable saving for regular attendees. Members have an influence on future artists' bookings and benefit from price reductions for additional tickets to both our shows and other events in the city on sale at all our shows.
Please also register on this site to view additional content and add
comment. You can click the "Don't have an account" link shown to the right to register on this site.
Need help subscribing etc, check out the FAQ page.
Contact
If you'd like to get in touch please select one of the below contacts or see the Edinburgh Blues Club Committee page.
Finance/Membership:
nick@edinburgh-blues.co.uk
Event Management:
duncan@edinburgh-blues.co.uk
Press & Promotions:
richardtweeddale@edinburgh-blues.co.uk
Booking Queries:
pauleunson@edinburgh-blues.co.uk
You can follow the Edinburgh Blues Club us on Twitter and Facebook
We also have the Edinburgh Blues Club discussion group on Facebook which is well worth joining.
Our Forthcoming Shows
All shows take place at The Voodoo Rooms from 7.15pm
Saturday 21 May 2016 – Edinburgh Blues Club Presents Ron Sayer Jr & Charlotte Joyce + The Andy Gunn Band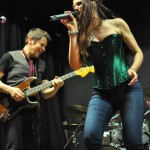 Ron Sayer Jr. is the consummate "Guitarist's guitarist". He is a trained music teacher and now a mainstay on the UK blues circuit. He will come to Edinburgh Blues Club with award winning vocalist Charlotte Joyce. Expect a powerhouse performance of soul & funk-inspired contemporary blues by this dynamic guitar/vocal duo at the top of their game.
Saturday 18 June 2016 – Edinburgh Blues Club Presents Moreland & Arbuckle + Black Cat Bone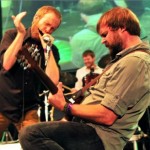 Guitarist Aaron Moreland and harpist/vocalist Dustin Arbuckle have spent over a decade exploring the edges of American roots music. In the process, Moreland & Arbuckle have forged a relentless and haunting sound that merges Delta blues, folk, rock, traditional country, soul and numerous other echoes and murmurs from an infinitely layered musical narrative that spans more than a century. If you like the Black Keys, R.L. Burnside, Alabama Shakes or Little Walter, Moreland & Arbuckle are right up your alley.
Tuesday 21 June 2016 – Edinburgh Blues Club Presents Billy Walton Band + Charlotte Marshall & The 45s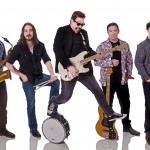 Since the age of 15 Billy Walton has plied his craft in the Asbury Park/New Jersey shore music scene–most notably as the guitarist for Southside Johnny & the Asbury Jukes. With his guitar, Billy will shuffle off to Chicago… we'll pick up the horns in Detroit and make our way down to New Orleans for some gumbo. Hurricane Billy will then whisk you up the coast and roll the dice in AC before landing in Asbury Park. Charlotte Marshall & The 45s are a sizzling seven-piece groove band brings a distinctive flavour of retro to the roots scene. Drawn from the musical traditions of New Orleans funk, Mississippi blues and 60s jazz, soul and R&B classics, Charlotte Marshall & The 45s won The Blues Magazine's Future of the Blues competition in 2015.
Wednesday 28 September 2016 – Edinburgh Blues Club Presents Kirk Fletcher + Sandy Tweeddale Band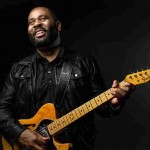 Widely considered one of the best blues guitarists in the world, Kirk Fletcher has commanded the respect and acclaim of critics, peers and fans across the globe. He is a four-time Blues Music Award nominee and has played with a variety of popular artists, including a four-year role as lead guitarist of The Fabulous Thunderbirds. He is also the frontman of his own band, having released three studio albums and a live album. A fourth studio album is currently in the works.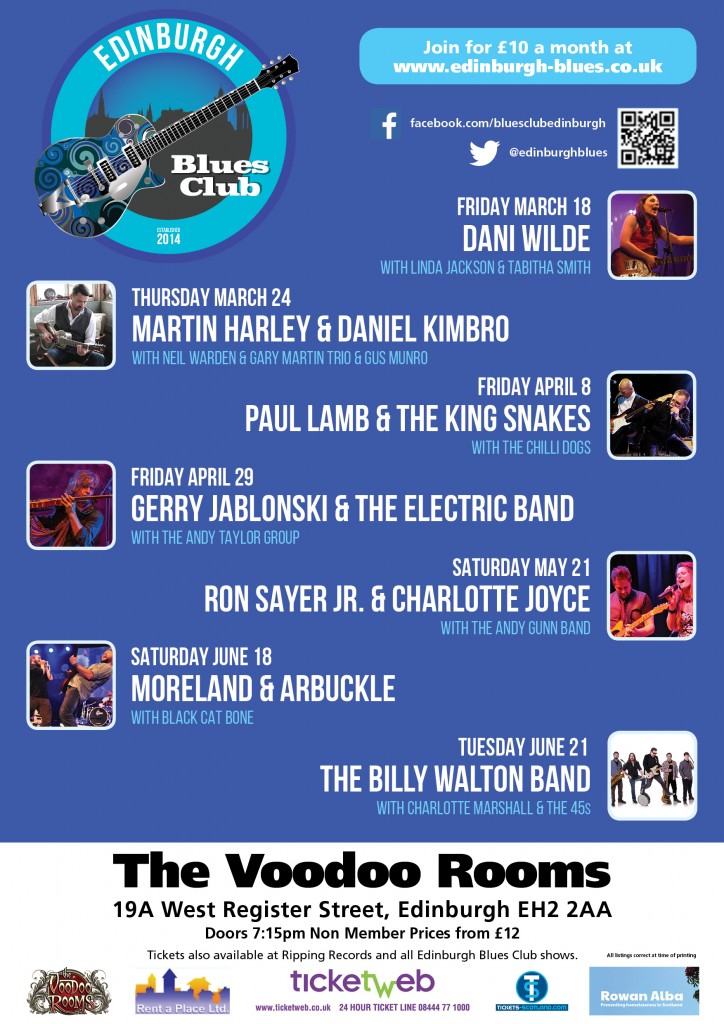 Edinburgh Blues Club Tour Dates


Edinburgh Blues Club Community Interest Company
Company no 479711