Mike Zito and The Wheel + Mud In Your Ear
November 1, 2015 @ 7:15 pm

-

11:00 pm

£13.50
Sunday 1 November 2015: Edinburgh Blues Club Present Mike Zito and The Wheel
The Scottish launch show for Mike Zito's new album, Keep Coming Back.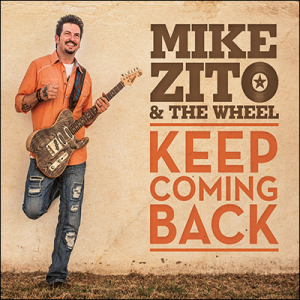 The natural habitat of the true musician is not the gleaming studio, a glitzy showbiz party or a five-star hotel. It's the road. And if multiple Blues Music Award winner Mike Zito had a dollar for every mile of tarmac he's burnt since his breakout in the early-'90s, they'd be piled up to his chin. "There's just something in me," considers the solo bandleader and Royal Southern Brotherhood co-founder (with Devon Allman and Cyril Neville), "It's there in all musicians. You gotta love the road to be a part of this world. You're right there, looking in people's eyes, swapping stories, shaking hands…"There's an undeniable romance about a life in motion – and an enduring magic about the moment when the house lights go down, the roar of the crowd goes up and the shadows take the stage. For Mike, who began touring the Midwest circuit at the age of eighteen, and has since crossed twenty-plus countries as guitarist with the Brotherhood, this is when things get serious. "In my band, The Wheel, if you're not already with us, you'd better get on board," he grins. "Because otherwise we're gonna knock you down!"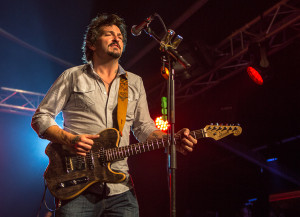 In Mike's own words, the bandleader "grew up poor in St. Louis"; in a blue-collar family whose father logged 40-hour weeks at the local brewery. Ten years working at a downtown guitar shop, under the tutelage of an older employee, exposed him to titans like B.B. King, the Allmans and Eric Clapton (and from there, Joe Pass, Robert Johnson and Blind Willie Johnson), and though he was fired from early cover bands for refusing to mimic the solos, by 1997, he had released his debut album Blue Room. "The first time you hear yourself," recalls Mike, "you think, 'Wow, that almost sounds like music!'"There were bumps in the road, of course. By the post-millennium, creeping alcoholism and drug abuse had threatened to rob Mike of his talent and livelihood. For a time, all seemed lost. But since the epiphany of meeting his beloved wife ("I give her all the credit in the world"), Mike has blossomed as both a man and musician, and in 2014, he can reflect on a run of thrilling solo albums, plus two universally renowned studio releases with the Brotherhood. "It's all working out," he beams, "and I couldn't be more thankful." "Gone To Texas is an old slang expression for the man of the house has split," Zito says with a smirk, "My life now couldn't be further from that."
Keep Coming Back is both the explanation and vindication for that decision. "This album brings me back to what it's all about," says Mike. "Having fun and playing music you love and believe in. It's all about the song."
Tracked in June at Dockside Studios, Louisiana, the album reunites Mike with The Wheel lineup of Jimmy Carpenter (saxophone/vocals), Scot Sutherland (bass), Rob Lee (drums) and Lewis Stephens (keys), with producer Trina Shoemaker and engineer David Farrell bottling the chemistry. "Trina and I were simpatico in our ideas of what this album would sound and feel like," recalls Mike, "and she nailed it. This album is raw when it needs to be, subtle, sincere and grooving all the way through. My band are in top form. The musicians gave their all to the songs and brought out the best in me".
Support by Mud In Your Ear
As MUD IN YOUR EAR, Allan and Ritchie have been regular performers at the UK's top blues festivals, including Banbury, Colne R&B Festival, Burnley Blues Festival and Dundee Blues Bonanza. They specialise in the music of the early pre-war blues masters, as well as in the early electric blues repertoire of Muddy Waters and Elmore James.
This show available to members of the Edinburgh Blues Club paying regular subscription with no additional ticket charge. Non Member tickets available from Ripping Records, Tickets Scotland and Ticketweb for £13.50 + standard booking fee and without booking fee at preceding Edinburgh Blues Club shows.